Rotacaster helps US company boost productivity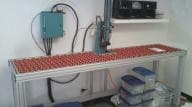 When American Ceramic Technology Inc (ACT) needed to increase productivity and improve workplace ergonomics at one of its US sites, it approached award-winning materials handling specialists Rotacaster.
ACT needed to find a way to improve production in the fitting of grommets to their Silflex radiation shielding. 
The original workstation was ergonomically challenging, requiring a two-handed effort to position the up to 90kg heavy Silflex blankets to precisely install the grommets. 
After investigating several options for an improved workstation, including an air table, ACT opted for the Rotacaster multi-directional wheel. Working with Integrator Prime Resource Inc, ACT developed a workstation using 48mm Rotacasters framed in modular T-slot aluminum extrusion from 80/20 Inc. 
The wheels were sourced from Rotacaster reseller Magnus Mobility Systems.
Indeed, 80/20 is an ideal material to frame transfer tables using Rotacasters thanks to its adaptability and modularity.
The chosen wheel density provides excellent load support, very easy movement and the ability to precisely positioning of these relatively heavy blankets.
The SilflexTM radiation shielding blankets are now manoeuvered and positioned easily with one hand eliminating the need to lean, twist and pull the item into place.
The new workstation exceeded all expectations for increased productivity and improved ergonomics while saving ACT over 75 per cent in acquisition costs compared to the installation of an air-table. 
Rotacasters operate without power and with minimal maintenance. So the long-lasting Rotacaster solution will continue to save ACT time and money for many years to come.
Rotacaster
Ph: 02 4907 8100