Rotabroach: the smart way to cut
31-08-2010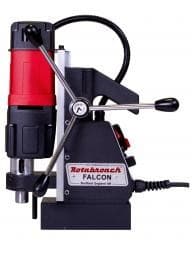 Advanced technology … Rotabroach Falcon magnetic base drill
Rotabroach is a well-known brand and a leading manufacturer of magnetic base drilling and hole cutting machines. 
Based in Sheffield UK, Rotabroach is at the leading edge of hole cutting technology with its advanced cutter geometry and comprehensive range of high-tech drilling machines offering solutions for most hole-drilling applications. 
To ensure that superior quality is maintained, Rotabroach runs an extensive quality program using state-of-the-art technology and testing equipment and is ISO 9001 certified. 
The Rotabroach range includes air, hydraulic and electric models.
A unique feature of the electric Rotabroach magnetic base drills is their new Cutsmart technology. This is a visual indicator that tells you when you are putting too much drilling pressure on the machine, which causes additional wear on both the machine and cutters and reduces service life. When the machine is working within its safe working conditions the green LED indicator is on. And when too much pressure is beginning to be applied the indicator changes to orange and if the pressure is increased too far, the indicator turns to red and the motor shuts off for 5sec. 
After this period the panel resets and the machine is ready to operate again under normal conditions. This unique feature ensures that maximum life is obtained from both the machine and cutters. 
One of the latest Rotabroach developments is a magnetic base drill that is reversible and can be used for tapping. 
This electric Falcon machine features variable speed control, a safety relay circuit, a reversible arbor for tapping and a range of tap holders. 
It has a hole cutting capacity of 12-50mm diameter x 50mm deep with anular cutters, a drilling capacity of 1-23mm with twist drills, a thread tapping capacity of M3 – M20 and can countersink holes from 10-40mm in diameter. 
With a net weight of only 13kg, this machine is very versatile and easily transportable around a factory or job site.
Industrial Air Tools
Ph: 1800 62 72 82