On a roll: new high-speed doors from DMF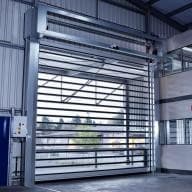 The Efaflex STT is a high-speed roll door that provides an ideal solution to control temperature and dust in food and warehouse applications when doors are frequently opened and closed.
The Efaflex not only seals the opening, but also provides light and visibility into the warehouse.
These doors are intricately designed, yet can withstand tough conditions with high usage. 
The STT model is part of a large range and has a see through door blade constructed from acrylic glass and strengthening aluminium windbars. 
With the ability to accommodate openings up to 8m square, and speeds up to 3.2m/s, this customised door can help increase productivity. 
The doors are also available with solid in-fills to lower visibility.
Sydney based DMF International is exclusive agent for the German manufactured Efaflex door range and has agencies throughout Australia.
Contact DMF for a no obligation free assessment and quote. 
DMF International

1800 281 170