Rockwell Automation signs SAGE Automation to its PartnerNetwork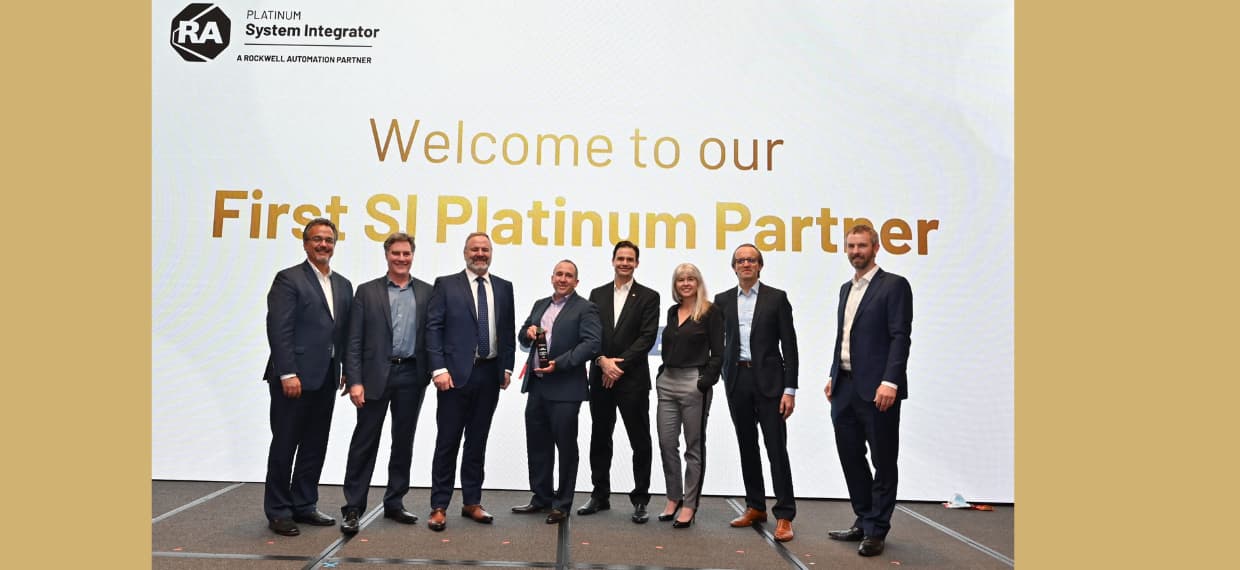 SAGE Automation is the first organisation globally to be designated as a Platinum System Integrator Partner as part of the Rockwell Automation PartnerNetwork Program. 
Based in Australia and India, SAGE Automation is an independent industrial automation and control systems integrator, delivering industrial automation design, delivery, and support globally.  
The program brings robust commercial and technical enablement to maximise system integrators' skills, recognise and reward performances, and provide the ability to find the right system integrator for a project to meet our customers' needs and achieve mutual success. 
As a Platinum System Integrator Partner, SAGE Automation will receive benefits including gaining enhanced recognition with customers and in the industry, as well as receiving incentives and product and technical support.
Rockwell Automation South Pacific managing director, Anthony Wong explained, "The partnership between Rockwell Automation and SAGE Automation aimed to deliver the full benefits of world-class automation to Australia, helping local industries obtain the widest possible breadth of expertise to make the most productive automation choices and avoid the high costs of uninformed decisions."
"Automation is no longer an option for many companies who wish to remain competitive and Rockwell Automation's collaboration with SAGE will simplify programming and lifecycle management, accelerating time to value for our customers," he added.
Development efficiences
Machine builders, system integrators, and others will gain development and deployment efficiencies through the use of digital engineering tools. The combined Rockwell and SAGE Automation solutions will also offer benefits beyond enhanced integration. For example, end users can use analytics and digital twin tools to gain deeper insights into machine performance and potential production optimisation. They can also use safety and security solutions to reduce business risks.
SAGE Group of companies group managing director Adrian Fahey added that SAGE's industrial digitalisation services – through a data-driven approach combined with automation, scalable support and enabling internal capability – have accelerated thousands of client journeys around the world.
"Our partnership with Rockwell brings the technical experience and best thinking to these critical industries and projects, from supporting Australia's most iconic manufacturers, to the energy systems that power our homes, the safety solutions that protect workers in high-risk environments, and the systems that provide Australians with clean drinking water."
Rockwell Automation Australia's key focus industries in Australia and New Zealand include manufacturing, particularly food and beverage, resources, including mining, oil and gas, energy, transport, including automotive and metal working, water and smart wastewater and sustainability solutions.
"Achieving this level of partnership with Rockwell cements our position as a world leader, supporting our clients through times of change, and always delivering the certainty they rely on," Fahey said.
CAPTION: Rockwell Automation SVP, chief revenue officer Scott Genereux; regional president, Asia Pacific Scott Wooldridge; SAGE Group
managing director and chief executive officer Adrian Fahey; head of engineering Steven Bailey; Rockwell Automation regional VP Asia Pacific Market Access Donald Shoemaker; director system integrator partners Joelene Mueller; VP global market access Johannes zu Eltz and program manager, system integrator South Pacific James Gaynor.