Published 20-06-2019
| Article appears in June 2019 Issue
ROBOTS OPEN DOORS FOR WORKER SAFETY AND PRODUCTIVITY AT NEW ZEALAND LOCK MAKER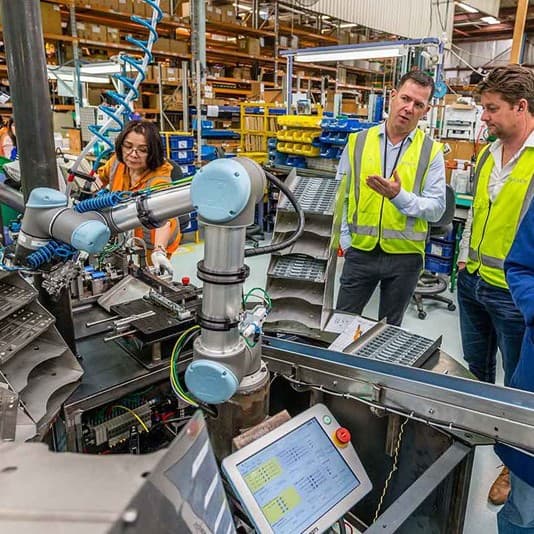 Automation and robotics have revolutionised the way business is done at Assa Abloy NZ, the global leader in door and window opening solutions. Looking to increase output and ensure delivery on its promise of two-day lead time, as well as solve an employee health and safety challenge, Assa Abloy NZ deployed universal robots' UR5 collaborative robot arm. This has increased productivity, improved employee safety, and relieved employees of repetitive tasks so they can be more involved in strategic business initiatives.
The challenge
High labour costs and geographic remoteness mean that to remain competitive on an international scale, manufacturing companies in New Zealand need to deliver products to market faster, with the highest level of quality, while keeping costs down.
Such was the case for Assa Abloy, the global leader in door and window opening solutions. Looking to increase output and ensure delivery on its promise of two day lead time, as well as solve an employee health and safety challenge, Assa Abloy NZ deployed Universal Robots' UR5 collaborative robot arm. The UR5 performs repetitive tasks such as picking, packing and screw driving on the company's Auckland lock bodies production line.
The solution
The UR5 has automated key manufacturing processes, such as the picking and placing of screws, relieving employees of repetitive tasks and ensuring a smooth production flow. Since the installation of the UR5 in 2016, Assa Abloy NZ has reported improvements in productivity, quality and most importantly, employee health and safety.
Flexibility and ease of use
Assa Abloy NZ is part of Assa Abloy's global business which specialises in door opening solutions and has been servicing the market for more than 50 years.
To kick off the industrial robot selection process, Assa Abloy brought three different robotic arm suppliers onsite and evaluated each one while they performed the same activities. "The scalability and easy programming of the UR5 was unmatched. It also offered the flexibility to perform the varied tasks we needed at an affordable price," said Marc Simkin, Manufacturing Engineer Manager, Assa Abloy NZ, speaking on selection of Universal Robots.
Ease of use is a key benefit delivered by Universal Robots, such as its easy programming feature. A graphical user interface with a teach function enables an operator to show the robot arm how a movement should be performed. The user-friendly interface allows staff to drag and drop the routines to automate programming. This means the UR5 can be reprogrammed and deployed for different tasks within minutes without prior knowledge on programming or robotic engineering.
Assa Abloy engaged Design Energy, a distributor for Universal Robots, to help integrate the UR5 and train the manufacturing team on how to advance the UR5 on the production line.
"We even decided to have a bit of fun – the lock bodies team had a naming competition and we named the UR5 Victoria. With this, Victoria becomes one of us – she's like another coworker," said Simkin.
Safety challenges
The initial purpose for implementing an automated solution was to relieve production staff from the onerous physical tasks of assembling locks and screwing face plates. In contrast to traditional robotic solutions, Universal Robots' small and lightweight robotic arms work safely alongside staff (subject to risk assessment).
Like all Universal Robots, the UR5's state-of-the-art force limit safety feature automatically prevents the robot from operating when movement is interrupted. The UR5 doesn't exert a force greater than the limit specified in the adjustable safety settings, which can be set from 100 to 250N.
Prior to deploying the UR5, operational staff were rotated every two hours, due to the demands of repetitive wrist and shoulder movements. By automating the final step on the lock bodies production line, the UR5 has relieved operators of work hazards. Knowing that employees can work in very close proximity to the UR5 without safety guarding provides Assa Abloy NZ with peace of mind.
Staff reaction to the UR5 – dubbed Victoria – has been extremely positive and they have upskilled as a result of cobot integration. New roles are being created for the team which are more focused on quality and process monitoring of material supply, compared to the role of a traditional assembly worker.
"We're so pleased to see the team's sense of pride in the new skills they've developed as a result of operating Victoria. Permanent staff have taken on the responsibility of mentoring temporary staff on how to work with Victoria," said Mataio Goding, Production Manager, Assa Abloy NZ.
Quality and consistency
The UR5 ensures there's no variation during the final assembly stage, improving consistency of product. The UR5 enables Assa Abloy NZ to deliver on its operational strategy of 'any colour any key any time' – producing any key or lock, in any colour – with a two day turnaround. This provides a competitive advantage as automation has traditionally only been relevant for large scale production.
"We have seen improvement in quality as a result of a more consistent assembly process," said Goding.
Automating repetitive tasks and improved consistency of output means less time and resources are required on the production line. Staff can be redeployed into more value added tasks, driving efficiency across the business. Assa Abloy expects to see a cost saving within the next 12 months that will pay for the UR5.
Based on the success of Victoria's installation and commissioning, Assa Abloy NZ is developing another process that involves two UR5s producing door hinges, with 22 different variants of product.
Universal Robots
+65 6635 7270
www.universal-robots.com