Robots are more cost effective than you think
31-08-2010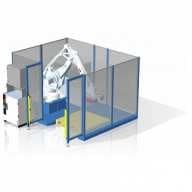 Have you ever thought that robots are too expensive, or too complicated for your small business?  
Well, all that has changed …
Perhaps the most common use for robots outside the automotive industry is in palletizing. Whether it is stacking boxes, bags or some other product, onto a pallet, there are some distinct advantages in putting a robot to work on this task. 
First and foremost is the safety of your workers.  
If stacking product on pallets day in day out, it's only a matter of time before someone gets injured. 
Because of this, the OHS Regulations call for the elimination of the risk of musculoskeletal disorders, like those caused by stacking bags or boxes, as far as is reasonably practicable. 
In the past, it wasn't reasonably practicable for small manufacturers to implement expensive robotic solutions. 
These companies would instead implement pallet lifters, and vacuum lifting hoists to assist workers to minimise, but not eliminate the risks. 
However, here's the question: What if there was a robotic solution that cost as little as $38,000 per year, was simple to use, reliable and suitable for a wide range of product types and sizes?  
We think that such a solution would be reasonably practicable for a huge number of businesses, currently stacking product manually. What do you think? 
Talk to a Robotize representative to learn more.
Robotize
Ph. 1300 916 431