ROBOTICS AND AUTOMATION TAKE CENTRE STAGE IN BRISBANE
23-05-2018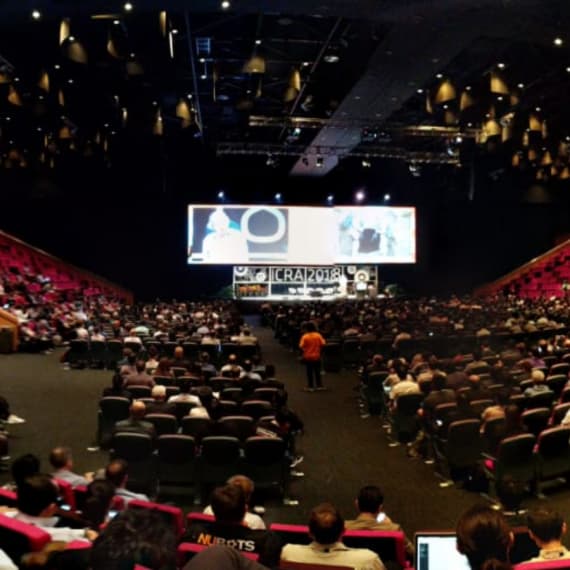 Brisbane is full of robotics this week as the International Conference on Robotics and Automation sweeps through, bringing thousands of experts and just as many prototypes, demos, and concepts.
Dr Alex Zelinsky, who is chairing the conference, said the event was a chance for Australians to see they were at the cutting edge of robotic technology.
"Australia has a very strong track record in the field and we've been world leaders in various parts of the work," he said.
The conference is unexpectedly topical, as a recent paper from members of the International Monetary Fund highlights the economic and employment risks that mass automation brings.
While many kinds of automation at the show are designed for situations that humans cannot safely or practically endure, other kinds of automation have the very real potential to replace jobs entirely.
"In scenarios where the traditional technology disappears and robots take over the automatable sector, the economy either ascends to a virtuous circle of ongoing endogenous growth or descends into a death spiral of perpetual contraction," the IMF report said.
However, conference delegates are positive that their contributions to the job market are a net benefit, with cooperative robotics playing a larger role than total automation.
Australian roboticist Professor Rodney Brooks believes training people to use robotics is empowering, and in some cases has the potential to maintain their dignity and independence.
"We've been building robots that can do dull, repetitive stuff: put things in boxes, take things out of machines," Brooks said.
"It's sort of criminal to have a person standing there who's not allowed to go on a bathroom break for hours doing some stupid task... so we're trying to give them tools so they can get the robot to do that stupid task and they can do something much more cognitive."
Other delegates have found that the proper use of automation can allow companies to hire more employees, rather than fewer.
Andra Keay, MD of Silicon Valley Robotics, said that many businesses employing robots appeared to increase their productivity and hire more people, while those unprepared to automate fell behind.
"The danger is if you don't keep up, if you don't become more productive and utilise automation, then you're going to close and people are going to lose their jobs," she said.
For the first time in the event's 35-year history it is being held in the Southern Hemisphere, from 21st to 25th of May, at the Brisbane Convention and Exhibition Centre.