ROBOTIC DISPENSING SYSTEM PROMISES TOP PLACEMENT ACCURACY
13-02-2018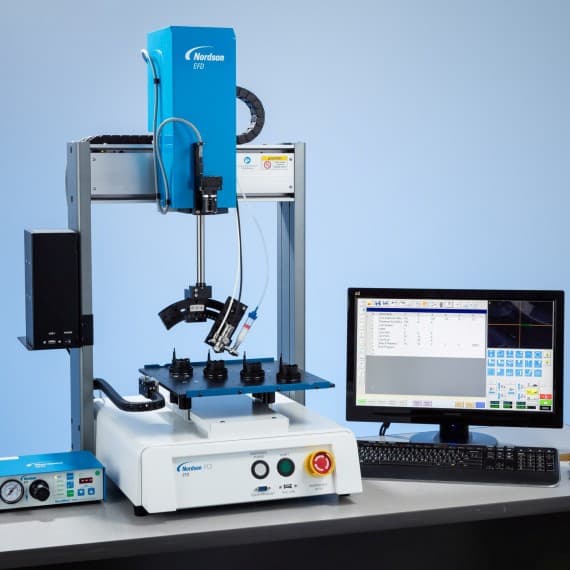 Nordson EFD reckons its new RV Series 4-axis automated dispensing system provides best-in-class fluid placement accuracy and control at any angle along the 360° rotational plane.
The vision-guided dispensing robot uses fiducial marks to automatically offset the dispense program and compensate for slight shifts in workpiece orientation or location. The proprietary DispenseMotion software compares the current workpiece location to a reference location that is stored as an image file in the program.
If the robot detects even the smallest difference in the x and y positions and/or the angle of rotation of the workpiece, it automatically adjusts the dispensing path to correct for the difference. This allows it to achieve greater positional accuracy.
The powerful CCD camera captures high-definition images for on-screen preview and confirmation of the dispensing path. It also makes the dispensing robot extremely easy to program.
With its dispense tip alignment capability and true three-dimensional motion control to ensure the most precise fluid deposit placement, the 4-axis RV Series delivers exceptional positional repeatability of +/-0.008mm.
The result is improved productivity through increased throughput and higher first-pass yields.
Nordson Australia
02 8814 4695
www.nordsonefd.com