ROBERT MEROLA SEES PLANS COMING TO FRUITION AT SEW-EURODRIVE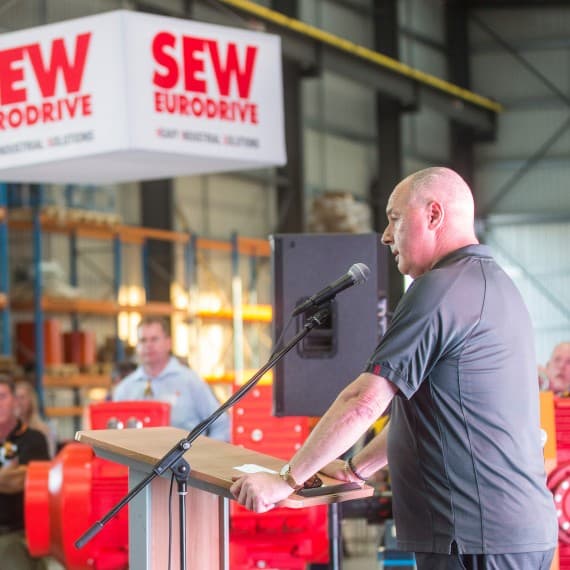 The last time Industry Update interviewed Robert Merola, the Australian boss of SEW-Eurodrive, the company was on the verge of realising some major plans. Almost two years on, those plans have come to fruition and the company is experiencing unprecedented growth, as he explained to Laurence Marchini.
The company's new $3 million Far North Queensland service centre in Mackay opened on time, despite the best efforts of Tropical Cyclone Debbie to devastate the area.
"Our local manager was stranded for a few days and had to work from home – even with the power down," says Merola. "But when he did eventually get there he was heartened to see that the building was still standing! Clearly a job well done by the builder."
Other developments have taken a little longer, such as the addition of SEW's own state-of-the-art AGV system to improve the logistics at the company's industrial gears facility in Melbourne.
"This technology changes at such a rapid rate," says Merola. "With new battery technology and guidance systems coming in we decided that we really did want to use the latest and greatest technologies and to demonstrate them to potential customers. So that's only now fully coming to fruition."
Energy efficiency
Energy efficiency has always been a hot topic for SEW-Eurodrive. So what have been the implications of the recent increases in Australian energy prices?
"We alone have invested between $300,000 and $400,000 so far in energy-efficient lighting and putting rooftop solar on our buildings," says Merola.
"We did have long-term contracts in place, but our power bills have tripled recently, and I dare say other companies would have experienced the same thing." And this, he admits, is beginning to work to SEW-Eurodrive's benefit.
"Where this comes in to play is when we are trying to sell something like a Movigear system," he says, referring to the company's Super Premium Efficient IE4 mechatronic drive system.
"18 months ago when we were presenting customers with the case for energy efficient systems, the figures we gave them for the payback period were good, but they weren't always compelling enough for companies to say 'lets go ahead'."
"Now that power prices have trebled, the payback period is even quicker, so everybody is clamouring to get Movigears installed and start reaping the savings quicker."
One of Robert Merola's avowed aims has been "to have SEW at the forefront of all things automation". So, how does he think the company is progressing towards this?
"We're making great inroads," he says, "considering we're coming from a position as a component manufacturer and we're trying to morph into the world of high-end automation."
"The company at large is committed to growing that end of the operation over the next three to five years and they're making some very large commitments in resources and technologies in Germany, and the budgets that are being proposed are really blowing my mind."
"We're looking at investments in the back rooms, in the production halls, in the products. Everything will dovetail together in the fullness of time."
Speaking locally, he says: "I think we are doing well in Australia – exceptionally well in the last 12-18 months in a mature market for a company that is 35 years old the growth has been very good."
"I think my target for being a $100 million company in Australia has probably shortened by a few years!"
"I do try to be a little more conservative – I like the growth to be sustainable – I don't like to see the sales graph with loads of peaks and troughs – I want a nice curve that's always heading in the right direction."
Growing workforce
The growth in the company's turnover has seen SEW-Eurodrive particularly active in the recruitment market.
"We're at an all-time high up around 240 – that's up 40 during the last 18 months," says Merola.
But while finding the right people has been relatively easy during this period, he is concerned that the labour market could soon be complicated by a revival in the resources sector.
"With the mining recovery that's been happening in the background I'm noticing the hourly rate for jobs like skilled fitters – particularly up in Far North Queensland – is starting to spiral upwards again, which doesn't really bode well for companies like us trying to retain people," he says.
"Companies can't match (or afford to match) the rates that mining companies pay - I just hope it's not another big bubble that's starting to form again – but there are signs already of spiralling wage costs, especially in the skilled fitters area."
Robert Merola does have one regret about the past 18 months, though. Both he and the staff at SEW-Eurodrive have been long-time supporters of Wellways (formerly known as the Mental Illness Fellowship Victoria), and October 2017 saw the company organise its 20th annual fundraiser for the charity.
The object was to take the overall total through the $2 million barrier, but the event fell agonisingly short of the magical figure at $1.95 million. "We had our best year for ages," he says, "but just couldn't hit the total." There's always next year!
So, what does the future hold for SEW-Eurodrive in Australia? In the short to medium term, Robert Merola is planning for more growth.
"A lot of our foresight, for example that we invested into Mackay, has payed off very quickly. The load testing facility is already operating at full capacity, and we're looking to expand it," he says.
"There will be several million dollars invested in the next few years in plant upgrades, new plants and service centres. We keep on investing in Australia because you need the backup and resources on the ground to provide the level of support for which we're known."
Robert Merola has seen a lot of changes in the Australian manufacturing scene during his 35 years at SEW-Eurodrive, and that includes changes to the media serving it.
Industry Update is a relative newcomer in comparison, but Merola is a fan.
"I'm very proud to say that we were in the first issue and have been in numerous issues since then," he says. " We just want to congratulate Scott and the team on the 100th issue and for creating a publication that has become something of a beacon in the media when it comes to keeping Australian industry informed."