RMIT UNIVERSITY AND OKUMA ANNOUNCE STRATEGIC ALLIANCE
13-07-2015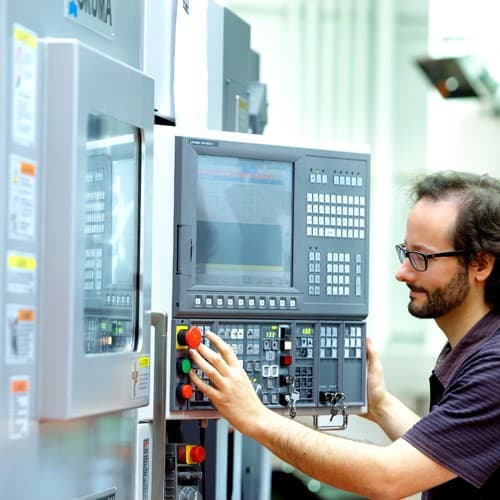 RMIT University and Okuma Australia have formed a strategic industry alliance that establishes RMIT Advanced Manufacturing Precinct as an authorised Okuma machine operation and programming training facility.
"Right across Australia, as the inevitable requirement to implement new technologies to meet competitive global manufacturing targets gathers pace, it's simply no longer appropriate that machine tool suppliers should be regarded as manufacturing skills providers alone, said Okuma Australia's Managing Director, Phil Hayes.
"While Okuma ensures that every Okuma user has access to comprehensive operational training and lifetime support, the RMIT alliance will allow those users to tap into the structured extended skills training and knowledge resources that RMIT University has to offer at a central location in Melbourne."
Okuma will promote the preferential alliance to its customer base throughout Victoria particularly.
RMIT University will now be included in the group alliance, PIPE (Partners in Productive Expertise).
Okuma will continue to provide specific customer support in its own right under the published terms of their 12 month bottomless operator training program and general application engineering assistance for all Okuma customers throughout Australia.  
The enhancement and improvement of high level employee trade skills in conjunction with the safe use, operation and programming of Okuma machine tools will be offered by RMIT University's specialist staff at the RMIT Advanced Manufacturing Precinct. They will have full access to Okuma staff, technical information and documentation.
Okuma will also continue its full time and national customer after sales field service and support programs including their unique Okuma-PAC program.
Okuma Australia Pty Ltd has appointed their National Technical Manager, Mr Leigh Milvain as Okuma's partnership coordinator and RMIT University has appointed Professor Milan Brandt in a similar role on the RMIT University side.
The partnership will seek to engage local industry in the skill improvement opportunities available at RMIT University's state-of-the-art facilities, materials and equipment at their dedicated Advanced Manufacturing Precinct (AMP) in Carlton.
Currently RMIT University's AMP houses Okuma capacity in fully simultaneous 5 Axes Machining, Multifunction turning with fully NC B-axis, CNC Turning with Y axis and live tooling. There is also a strong line-up of high level industrial machine tools plus allied robotic and automation systems.
RMIT's Dean of Engineering and Head of the School of Aerospace, Mechanical and Manufacturing Engineering, Professor Aleksandar Subic, said: "The strategic alliance with Okuma provides strong support for the development of our work ready graduates within the Engineering Learning Factory at AMP, and contributes to the development and transformation of the Australian manufacturing sector."
For more information:
Okuma Australia Pty Ltd
Ph: 03 9757 5888