The Right Washer for a Perfect Fit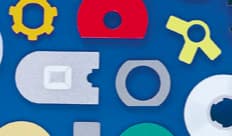 Washers are critical to the operation of virtually every machine or device with moving parts.
With almost limitless variety of washers available it's important to select the optimal washer for your application. The wrong washer can result in machine downtime and lost production costs.
BOKER'S, INC. understands the optimal washer selection is critical for assembly applications.
An industry manufacturer with over a century of experience BOKER'S, INC. offers expertise and capability along with a vast range of washers.
Whatever style or material you recquire from your washers, BOKER'S, INC. has you covered. From the basic type of washers to custom innovative styles, BOKER'S, INC. works with you to ensure your washers are the right fit.
Certain applications require washers to be made from specific materials to withstand environmental conditions.
Any type of material that can be stamped can be made into a washer.
BOKER'S, INC. has a wide variety of materials on hand to create what you need.
So don't be overwhelmed by choice. Speak to the experts at BOKER'S, INC. and get it right the first time.
For more information find out about BOKER'S, INC. range of washers at www.bokers.com