Richmond sets sights on new challenges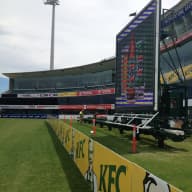 When it comes to custom engineering design and manufacture Richmond Wheel & Castor Co are industry leaders.
Never shying away from challenging projects, the team at Richmond has developed a reputation as solution providers for large-scale ventures.
There most recent large scale project was to design an effective wheel system for the new cricket sight screen at Hobart's Bellerive Oval (known as Blundstone Arena).
This project was a completely new concept in cricket ground sight screens, positioning the Tasmanian oval at the forefront of Australian and world cricket facilities.
Camden Neon Signs for Cricket Australia was responsible for the track design and size of the screen. Richmond was appointed to "make it move."
Priding themselves on being "wheelmakers for industry" this is the kind of project where Richmond's team shines.
The team custom designed the support wheels and the drive wheel system. This included all electrical motors, programmable controllers and limit switches, before embarking on in-house manufacture.
Each screen features a dual drive electric motor system to gain enough traction to swiftly and smoothly move the 5000kg screen.
Drawing on 57 years of pipe roller manufacture and design experience, the system consists of eight carriages per screen. Each carriage features six wheels manufactured from 65D polyurethane, while the track is constructed from heavy wall 150 nominal bore pipe.
The sight screen is a fully LED TV screen and advertising board, installed in time for the Big Bash League and the KFC T20 International.
The entire track and screen system is bolted to concrete foundations that have been cast deep into the oval.
Rather than having the track system for the screen permanently fixed to the stadium, this system can be completely removed for the football season.
Featuring round pipe for a roller coaster look and painted in iconic "baggy green," the sight screen is not only functional but also aesthetically unique.
With a national head office in Melbourne at Clayton South offering in-house design and manufacture as well as branches nationally, Richmond is well placed to service material handling projects for all industries.