RFID BADGE SYSTEM CONSOLIDATES MULTIPLE STAFFING FUNCTIONS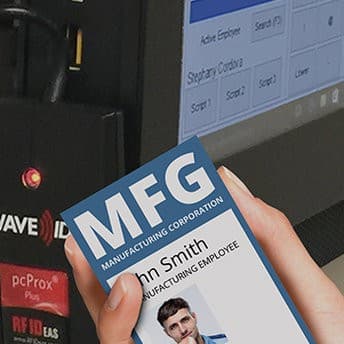 Global Shop Solutions reckons its RFID technology is the ideal answer to simplifying time and attendance and routine inventory processes in manufacturing industry.
Many manufacturers currently operate multiple systems using front-door badges, barcodes and picture IDs to manage building entry, logging on and off jobs, and visual identification. And Global Shop Solutions reckons that its RFID technology will save time and improve building security by consolidating these three processes into one.
Using a single RFID card, employees can gain entry at the front door, clock into jobs, and visually identify their authorisation to be in the building. Wht's more, there is ample scope to add further functionality to the RFID-based system, should the need arise.
Global Shop Solutions CEO Dusty Alexander says: "Our mission is to simplify manufacturing, and one way we do that is by helping manufacturers eliminate redundant processes.
"Our RFID technology eliminates the need for biometric scanners, barcoded employee lists and separate ID badges. As a result, our customers enjoy simpler building entry and ERP system access, faster employee logins, and reduced human error."
Global Shop Solutions
02 8294 8439
www.globalshopsolutions.com