REX J ANDREWS EMBRANCES CNC TECH FOR UNRIVALED HAULAGE INNOVATION
30-08-2016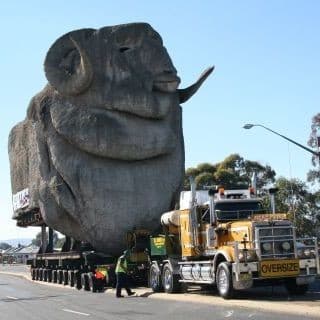 Rex J Andrews hauling Golburn's iconic Big Merino
Rex J Andrews is not your average transport services company – it's the heavyweight champion.
Predominantly a heavy haulage company, Rex J Andrews specialises in the toughest jobs in the business – from wind turbines to bridges to a concrete merino.
The company, which operates out of Sydney, Adelaide, Newcastle NSW and Portland Victoria, concentrates on moving oversize and over-mass loads, including those that require sophisticated multi-articulated systems.
"Our company focus is on the jobs that no one else wants to do, projects with complex and highly specialised requirements," said Mr Andrews, the company's engineering manager.
What distinguishes Rex J Andrews is its capacity to design and manufacture equipment internally, allowing it to create a customised, innovative solution for even uniquely challenging problems.
"We manufacture our equipment specific to a need. We might make a truck or a trailer even just to carry one item," Mr Andrews said.
With this capability, the company can "manage the logistics of any movement both here and to or from overseas." Its services extend to managing storage, and operating cranes and lifting systems.
Mr Andrews said the work they pride themselves on most is with renewable energy. Specialising in the movement of wind farm technology, the company manages transport and storage from arrival onshore to arrival at the final destination.
"We transfer wind towers, turbines, blades, hubs, all the pieces associated with the windmill," Mr Andrews said. "Some pieces are well over 150 tonnes."
Moving this kind of technology is high stakes work, so the company's manufacturing must be high quality and consistently reliable.
It's no surprise then that Rex J Andrews has embraced CNC technology.
From 2009 to 2015, the company purchased three Doosan CNC machines from Hare and Forbes, including a Puma 240LC Lathe, a Lynx 300M Lathe and a Machining Centre DNM650II, which are now its three main machines.
The "repeatability and the accuracy" of CNC has led to a "massive" improvement in quality, "because you're not dealing with an operator who's minding handles to get a specific cut size," Mr Andrews said. "The machine's just cutting to the same accuracy all the time."
Perhaps even more impressive is the "huge" boost to efficiency – "a 600% to 1000% time saving" on a large job, according to Mr Andrews. Even if only three or four components are needed, CNC saves time.
"Once a CNC machine is programmed, it could make an intricate part with a thread, for instance, in two or three minutes. It would take a manual machine half an hour."
The CNC machines also represent a "massive" improvement in safety, Mr Andrews said.
He rates the Lynx Lathe in particular, due to its live tooling. "It can spin the tools, so it can basically stop the turning operation and become a mill of sorts. It's like two machines in one."
The fast turn around of CNC can be critical in make or situations, allowing the company to deliver for customers even despite unexpected events.
"Just today, the Puma was doing nothing but we broke a shaft in a trailor in Adelaide on the other side of the country so we made a new shaft and we're shipping it on the truck tonight to be there in the morning."
Mr Andrews said the machines were a "very good purchase" not only for their quality, but because of the support from Hare and Forbes.
"The after-sale service is excellent. The spare parts backup is good, the training is good. We're very happy," he said.
The strong relationship with Hare and Forbes goes right back to the company's birth. Howard Andrews' father, Mr Rex Andrews, started the business in 1989 with only himself, a truck and some second hand machines from Hare and Forbes.
Today the family business has 25 trucks and nearly 50 staff, but the relationship with Hare and Forbes remains a part of the Rex J Andrews success story. "A good business depends on good suppliers – and that's exactly what Hare and Forbes is," Mr Rex Andrews said.
"I bought my company's very first machine off Hare and Forbes. Even before I started my own company, I used them. We still have machines I bought from Hare and Forbes 29 years ago."
"Right from the beginning, I made sure to browse the Parramatta store whenever I was in the area. You knew their second hand products could always be relied on."
That's no exaggeration. One of the early purchases was a Pratt and Whitney, used to make the engines for World War II Aircraft. "It's still with us," Mr Howard Andrews said.
Now bolstered with the latest CNC technology, Rex J Andrews is well-equipped to continue hauling transport services into the future.