Revolutionary new diesel driven pump from Gorman-Rupp
10-02-2012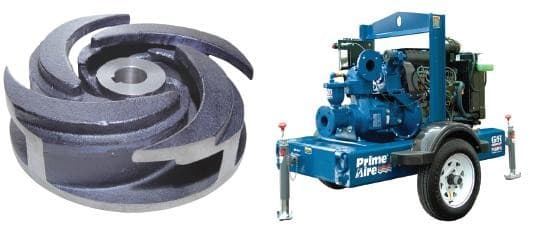 A new diesel driven Gorman-Rupp Prime Aire trash pump is now available from Australian distributor Hydro Innovations.
The new pump has a revolutionary new impeller design, which it is claimed can handle large solids while maintaining efficiency.
The pump is a 75mm x 75mm centrifugal unit that can deliver flows from 3L per second (l/s) through to 28 l/s, with heads to 40m.
The pumps have a patent pending "stagger-wing" vortex impeller, which is designed to enable the pump to handle a 76mm spherical solid along with stringy materials such as rags.
The difference between this impeller and other vortex impellers is its vastly improved efficiency and head capabilities.
The pump's priming capability comes from Gorman-Rupp's unique priming system, which includes a compressor and venturi device "pulling" a vacuum through Gorman-Rupp's own air separation chamber.
This, combined with an over-sized, oil lubricated mechanical seal, allows pumps to prime reliably and to run dry continuously without damage.
The PAV3B60C-3TNV70 is powered by a Yanmar liquid cooled diesel engine that is US EPA certified to meet interim Tier IV emission standards.
Standard "auto-start" control panels include safety shutdown switches for high liquid temperature and low oil pressure.
They also include tachometer, voltmeter, hour meter, coolant temperature gauge, oil pressure gauge, manual/stop/auto key switch, 10 AMP push-button circuit-breaker, start-up warning delay, muffler with weather cap, and throttle control.
The units are available as open skid mount units or with acoustically rated canopies and can also be fitted to road register-able trailers.
Hydro Innovations
Ph: 02 9647 2700
www.hydroinnovations.com.au