Revolutionary heat treating induction power supply
31-08-2010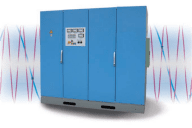 State-of-the-art technology … Inductoheat Statipower IFP
The revolutionary Inductoheat Statipower IFP (Independent Frequency & Power), IGBT type power supply is designed to be incorporated into induction hardening and tempering systems.
The Statipower IFP, from Inductotherm Group, is the only inverter of its kind to permit Stepless variation of Output (kW'S) and operating frequency during the inductive heating process.
This means the frequency and power can be adjusted instantaneously when surface and penetration depth changes on any given load. Ideal frequency and power combinations maximize production rates.
The Statipower IFP is equipped with a microcontroller, a controlled 6-pulse rectifier bridge using state-of-the-art IGBT technology, and an output transformer.
Features and benefits:
Power supplies available between 75.0 and 360.0 kW
IGBT-type power supply
Operating Frequency adjustable between 5.0-40.0 kHz 
Input power factor is 0.95 under all operating conditions
Output regulation accuracy is ±1% of rated power with ±10% line variance to ensure precise process control
Inductotherm Group Australia Pty Ltd
Ph: 03 9786 6000