Published 08-09-2020
| Article appears in August 2020 Issue
REST AND RECOVERY MADE EASY WITH TENTE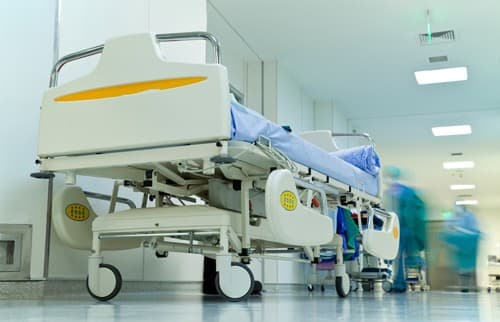 Ease of mobility in hospitals and clinics was crucial even before the COVID-19 pandemic, but with healthcare facilities under increased strain, it's now more important than ever to make the hospital experience the smoothest it can be.
To effectively be a part of the recovery process, equipment in hospitals and clinics must serve two masters: patients for whom it must make the experience comfortable and conducive to good health, and healthcare workers for whom it must be safe, easy to use and ergonomically sound.
Tente, the world market leader in the medical furniture sector, understands this, and has designed an impressive variety of features aimed specifically at the healthcare sector.
Since 1923, Tente's range, designs and business practice prioritise safety, ergonomics and efficiency.
As a globally positioned company, Tente continues to set new standards and offers a wide range of pioneering mobility solutions for the healthcare industry. Tente's experts are on hand to help you make the right choice from their large selection, no matter your requirements.
Peace and quiet is a large part of recovery for any hospital patient, and Tente's ergonomic, low-noise castors take the strain off both patients and nursing staff. Wheels can be quietly locked and released to ensure patient rest is not disturbed, while effortless handling equals greater productivity and significantly improved safety for employees.
Tente's castors also feature a minimum overall height, which enables nursing staff to set the lying surface of hospital beds low without a loss of mobility. This improves fall prevention and reduces risk of patient injury.
Speed is a critical factor in any hospital, so Tente's central locking system allows the company's Integral, Integral twin and Linea castors to be locked and released in a single step. The foot pedal is accessible from every side for improved speed and safety.
The Quick-Fitting R36-34 assembly ensures castors can be changed and cleaned quickly and without complications.
Linea is Tente's hospital bed castor; low swivel resistance and a remarkably low overall height contribute to the undisturbed recovery of patients.
The Linea e-lock system features an electronically activated locking function that makes switching nearly silent and offers flexible control of all switching positions. The system can be seamlessly integrated by hospital bed manufacturers into corporate designs.
Often found beneath operating tables, the Linea Load features increased torsional stiffness for firmer positioning and higher load bearing capacity.
The Integral is Tente's benchmark single-wheeled castor for the medical field. Integral combines attractive, functional design with high safety, long life and exceptional resistance to shock loads.
The Integral's soft wheel options – with smooth running, directional locking and full mobility - have been specially developed for the quiet hospital environment. The robust and maintenance-free construction makes cleaning a breeze, while high quality components make the Integral resistant to many chemical substances.
Tente's smart solution, the E-Drive electric drive system, can be fitted to hospital beds for the ultimate in effortless transport. The battery-powered drive unit allows equipment to be driven around with ease, and when in stand-by mode, the drive wheel retracts to allow for manual movement.
Popular among healthcare staff, the E-Drive improves productivity and quality of care while increasing staff wellbeing and reducing operating costs.
Now more than ever, healthcare providers need their equipment to offer safe, peaceful and reliable performance for patients on the mend. Tente's castors and wheels make any hospital bed or operating table into silent, manoeuvrable allies in the fight for good health.
The company's long track record assures clients that Tente delivers optimised efficiency, comfort and profitability without the fuss.
As the healthcare industry continues the never-ending battle, Tente is poised as the ultimate foundation. Contact the experts at Tente and ask for a catalogue, or visit www.tente.com for more info.