RESEARCHERS GO OVER THE WALLS TO DEVELOP ADVANCED SYSTEMS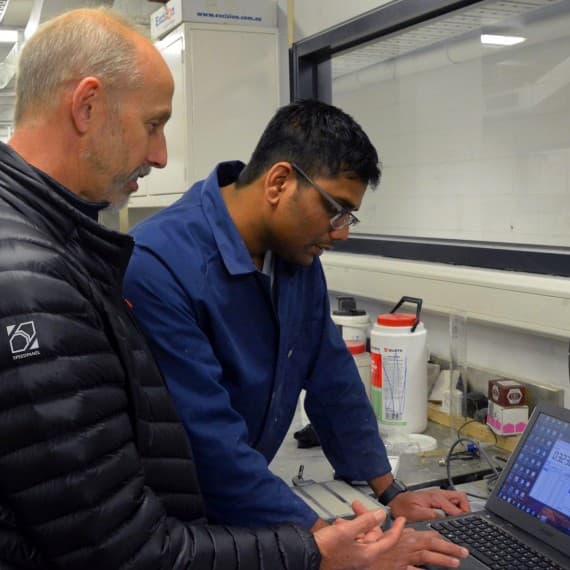 Peter Bernhardt (Speedpanel) and Sayanthan Ramakrishnan (Swinburne): "exciting, new, innovative and sustainable materials"
Speedpanel, an Australian owned and operated manufacturer and supplier of lightweight fire- and acoustic-rated wall systems, has partnered with Swinburne University of Technology to research and develop new materials and manufacturing technology to further enhance their modular wall panel systems.
Australia's construction sector is changing, particularly in light of technological advances and environmental pressures, so Speedpanel is investing in the next generation of its proven products, which are easy to install and widely used in the building and construction industry.
Researchers from Swinburne's Centre for Sustainable Infrastructure, under the leadership of Professor Jay Sanjayan, will apply advanced manufacturing principles to develop and test the structural, acoustic and fire performance of new, low-carbon materials, and incorporate them into Speedpanel's existing product ranges.
"Swinburne is proud to work alongside an industry leader like Speedpanel and other collaborators, with the help of the IMCRC," Professor Sanjayan says. "This project provides a great opportunity for our team to go beyond the laboratories and use our ground-breaking research to develop new materials and technologies that have the potential to revolutionise the construction industry."
Peter Bernhardt, Innovation and Technology Manager at Speedpanel, describes the project as a major shift in how wall systems are designed, manufactured and supplied. The three-year project is worth more than $4.4 million.
"Speedpanel 2.0 will be a game changer for the building and construction market," he says. "New methods of manufacturing, combined with exciting, new, innovative and sustainable materials, are set to enhance our versatile range and further reduce our carbon footprint."
David Chuter, CEO and Managing Director of the Innovative Manufacturing Cooperative Research Centre, says that Australia's building and construction sector presents a widespread opportunity for change and greater potential for the adoption of advanced manufacturing technology.
"As part of its commitment to business transformation and continuous improvement, Speedpanel has recognised the need to further develop and evolve production processes, components and systems used to increase efficiency, productivity and respond to market demands," he says.
"Aligning its manufacturing capabilities, and investing in the development of new materials and technologies, will create a breadth of opportunity across the entire supply chain as it develops the next generation of Speedpanel products."