RESEARCHERS FIRE UP 3D-PRINTED MINI JET ENGINE
20-05-2015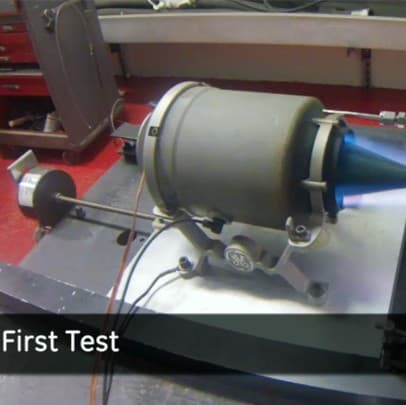 In yet another first for 3D printing, GE engineers have created a small jet engine using next-gen manufacturing technique for building 3D objects "by melting metal powder layer upon layer."
And not content to just sit back and admire the gadget, they then fired it up and tested it at 33,000 rotations per minute for a fiery demonstration of the engine's functionality.
The engine, about 30cm in length, exists due to an advanced technique called direct metal laser melting.
The engine isn't an exact miniature replica of a complicated engine for a full-size jet.
It is instead based on a design for a radio-controlled aircraft.
However, it was fired up in a contraption made to test regular engines, so it was subject to a similar workout as a full-size engine.
The engine is mainly a proof-of-concept. One GE engineer described it as as a "fun side project." It also shows the potential for 3D manufacturing for aircraft.
In April, the US Federal Aviation Administration (FAA) cleared the first 3D-printed part to fly in a commercial jet.
It's not a stretch to imagine entirely 3D-printed engines powering planes in the near future.
GE has a fascination with tiny 3D-printed engines. Last year, the company released plans for 3D-printing your own mini jet engine.
Unlike the latest engine, the little plastic model cranks by hand and will get nowhere close to 33,000rpm.
Source: CNET