RESEARCHERS DEVELOP NEW NON-STICK COATING TO MAKE LIFE EASY
03-04-2015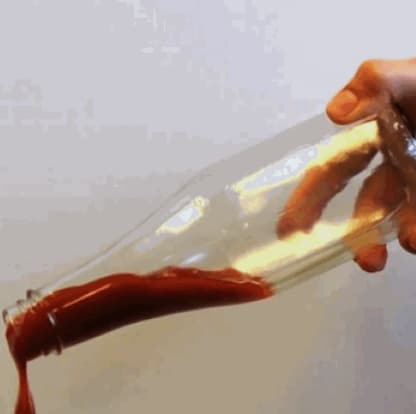 One of the most frustrating feelings in the world is struggling to get the last bit of tomato sauce or mayonnaise out of the bottle or the last squirt of toothpaste out of the tube.
Now a team of US researchers has developed a new non-stick product to help solve this universally annoying problem.
Called LiquiGlide, this non-stick coating can keep the inside of a container permanently wet and allow its contents to easily slide out.
LiquiGlide was originally created in 2012 by Professor Kripa Varanasi and his graduate students at Massachusetts Institute of Technology (MIT).
They have formed their own LiquiGlide company, and it's now getting some traction among consumer products.
The reason it's so difficult to get things like glue and condiments out of their containers is because they are viscous liquids that can't flow without a powerful push.
When these kinds of liquids flow through a pipe or a bottle, the layer of liquids flow at different speeds and create friction and viscosity.
The layer at the very centre of the container is flowing fastest and the layer that is closest to the container sticks to its surface.
The idea behind LiquiGlide is to create an extra layer between the container and the liquid that will help the liquid slide out easier.
LiquiGlide is a liquid coating that binds much more strongly to textured surfaces than to liquids, so when it's painted onto the inside of a container, the liquid can flow freely over it without creating friction and viscosity.
"We're not defying physics, but effectively, we are," one of the MIT grad students, Dave Smith, told the New York Times.
So what's in LiquiGlide? It depends on the liquid and containers that each batch is made for.
For any food containers, the coating is made from edible materials like plants.
Other than solving a universally frustrating problem, LiquiGlide also cuts down on waste.
You waste less glue, paint or condiments because it's much easier to get out the last few stubborn squeezes.
According to a consumer report from 2009, some people end up throwing out up to a quarter of the lotion in a bottle, 16 percent of detergent, and 15 percent of condiments because it's too much of a pain to coax out the layers that stick to the container.
Originally, Professor Varanasi was thinking about industry applications like more efficient oil pumping.
But now, the company has found success in consumer products, though it will continue to pursue industry applications as well.