RESEARCHERS CREATE NEW ULTRA-THIN FLEXIBLE SOLAR CELL
22-06-2016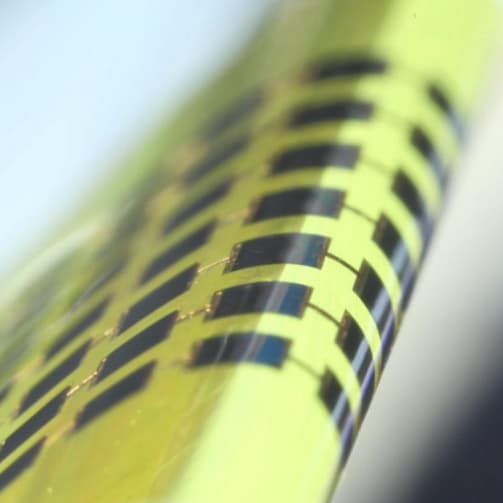 As we know solar seems to be the way of the future with technology rapidly expanding it's no surprise that the newest revolution of wearable solar cells is making breakthroughs.
Researchers at the South Korean Gwangju Institute of Science and Technology, have developed a new ultra-thin and flexible photovoltaic cells that can be bent around a pencil.
"Our photovoltaic is about 1 micrometre thick," said engineer Jongho Lee from the Gwangju Institute of Science and Technology.
This small size makes it thinner than the human hair, meaning that they could be used in sports devices such as fitness trackers and smart glasses. The flexibility could also mean that the new technology can be adapted into wearable fabrics or clothes. 
The team in South Korea developed the mater by using gallium arsenide, a semiconductor material, and stamping the cells onto the flexible substrate, cold welding the cells to the substrate.
What the researchers found was that the ultra-thin cells could wrap around a radius that was as small as 1.4 millimetres, while only experiences a quarter of strain of other thin cells.
"The thinner cells are less fragile under bending, but perform similarly or even slightly better," said Lee.
"If you breathe too hard, you might blow it away," said one of the MIT team, Joel Jean, at the time.
With solar cells becoming smaller, scientists have also been working on making them more efficient. Last month the University of New South Wales set the new world record for solar efficacy, creating a photovoltaic cell that collects more than a third of the sun's energy.
"This encouraging result shows that there are still advances to come in photovoltaics research to make solar cells even more efficient," said researcher Mark Keevers, when the record was announced.
"Extracting more energy from every beam of sunlight is critical to reducing the cost of electricity generated by solar cells as it lowers the investment needed, and delivering payback faster."