RESEARCHERS ARE DEVELOPING THE WORLD'S LARGEST TURBINE
21-03-2016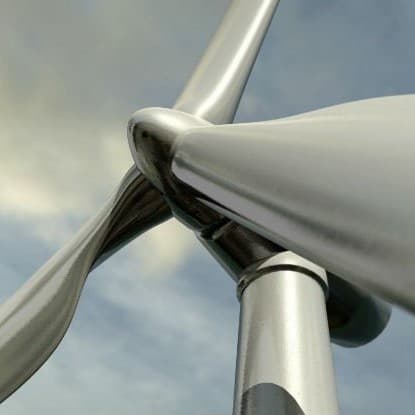 Everything is getting smaller, phones, batteries, computers, in the ever-expanding work of tech, smaller seems to be better.
Not when it comes to wind turbines though, the bigger the better.
And to that end, researches are making blades that are 200m long.
Reports from the LA Times, have said that the new wind turbine will stand at a huge 479m.
Something that big can't be stable without a diameter of 400m.
"We call it the extreme scale," Eric Loth, a University of Virginia professor of mechanical and aerospace engineering, said of the planned mega-blades. "There's nothing like it."
Loth is one of the leaders of a team that is made up of four universities and two national laboratories.
The team has three years to build and test a scaled prototype in the hopes of making the blade a reality.
According to the team, the size isn't the only thing that makes it unique. This new turbine won't face the wind but rather it will face downwind so the turbines won't be fighting the wind.
The design of the blades, which is called Segmented Ultralight Morphing Rotors, makes the whole thing a lot easier to move around.
Estimations put the generating power at 50 megawatts, 25 times more than the traditional wind turbine.
At the moment the team is working on a 1/10th version of the turbine, with test dates projected to be around 2019, then another 15 years to make a full-scale version.
The US Energy Department has given US$3.5 million to the project.
Although this can be a game changer, this is still in development stages, with some problems ahead: birds. More specifically, bird deaths.
Being as big as it is, it can be a threat to migrating birds. To avoid this, the team is planning on building them off the coast of California, there is no real indication if this will solve the problem though.
Though the project is super-ambitious and will require a lot of research to pull off, some are already pointing out an obvious downside to having such a giant, tall turbine: it's a bird murdering machine.
Now we wait to see how the new wind turbines work and if they're able to produce cleaner energy.