RESEACHERS DEVELOP A CUTE CUBE TO MONITOR CUBICAL COMFORT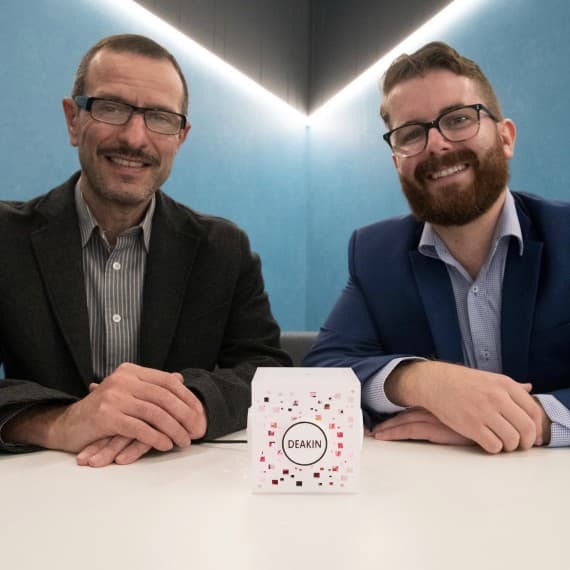 Professsor Abbas Kouzani and Scott Adams, Deakin University
Researchers from Deakin University's School of Engineering have developed what might be the cutest and most convenient method of monitoring physical comfort levels in an office with their Deakin Cube Comfort Monitor.
The monitor, affectionately named the Baby Cube, is a small box, ideally sized to sit unobtrusively on an office desk, containing a series of small sensors for tracking temperature, humidity, air quality (CO2 and total volatile organic compounds levels), light intensity and sound levels.
This data, collected in real time, is available for immediate analysis via a cloud-based web server, giving building managers accurate and timely feedback about comfort levels, such as hot and cold spots in an office, air quality, optimum lighting and noise issues.
The researchers believe the Baby Cube has the potential to vastly improve the management of building resources, particularly energy systems, by making it easier to identify areas in the office where comfort levels are less than ideal or even dangerous to people's health.
Scott Adams, one of the team, says the idea for the Baby Cube came during this January's heatwave when Deakin's facilities services team sent out a reminder about managing comfort in the workplace.
"We wanted to know how temperatures and humidity levels fluctuated during that time to help us manage our cooling systems more efficiently," he says.
"Contemporary office buildings generally have in-built monitoring systems but that's less common in older buildings, so there is a real need to improve how we monitor workplace comfort in older buildings, ensuring the heating and air conditioning systems are working effectively, that lighting is not too bright or too dull and that the room is not too stuffy or noisy.
"The Cube Comfort Monitor can vary in size from individual desktop cubes to miniaturized whole-of-office systems that sit in the corner of a room. It is a low-cost way of collecting data that will help building managers monitor what's happening in any office, or part of that office."
The research team was led by Professor Abbas Kouzani and included Dr Egan Doeven, Adams and Josh Holland.
Professor Kouzani says the cube is a good example of how the Internet of Things can be used to improve daily lives, and devices like the Baby Cube can lead to improved health and wellness.
The team is now looking at testing the monitor at 15 sites across Deakin, with the aim of commercialising it later this year.