RENEWABLES FULL STEAM AHEAD IN SA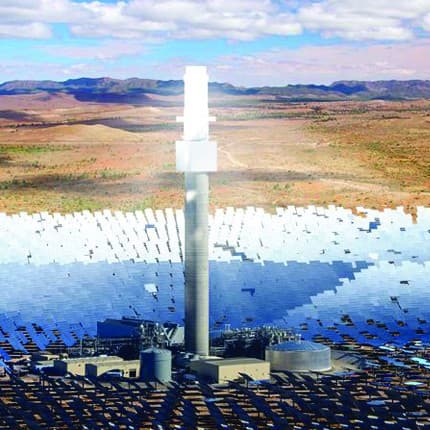 Pictured: proposed 150MW solar thermal installation in Port Augusta.
A year on from a storm that blacked out the entire state, South Australia has emerged from the electricity crisis to strengthen its position as a global leader in renewable energy.
South Australia was plunged into darkness when a once-in-a-half-century storm ripped through the state on September 28, 2016, knocking down more than 20 electricity pylons and three major transmission lines. The cascading chain of events led to a state-wide blackout when the interconnector linking South Australia and Victoria overloaded.
Several federal ministers, including Australian Prime Minister Malcolm Turnbull, seized on the opportunity to criticise South Australia's reliance on renewable energy, which at the time provided about 40 per cent of the state's total electricity.
One year later, South Australia has defied its critics and is ahead of schedule to reach its 50 per cent renewable energy target by 2025. It has also taken steps to increase the reliability of renewables by stabilising the peaks and troughs of renewable sources that can contribute to supply problems. 
Now, the state is powered by about 48 per cent renewables and is the second leading wind-powered region in the world, behind Denmark.
A series of large-scale renewable project announcements by local and international investors since the storm has helped grow confidence in the sector.
In March, the South Australian Government announced a AU$550 million energy plan – including funding for the world's largest lithium ion battery – to improve system security, reliability and market competition.
Tesla CEO Elon Musk and South Australian Premier Jay Weatherill announce the world's largest battery at Hornsdale Wind Farm in the state's Mid-North. Picture: Andre Castellucci/InDaily
South Australia's Executive Director for Energy and Technical Regulation Vince Duffy said the plan's initiatives improved system security and reliability, while allowing for more conservative management of the grid.
This was confirmed this month when AEMO released its statement of opportunities report, which found that the South Australian Energy Plan would help alleviate risks to consumer supply in the state by acting to provide additional supplies to consumers at times of identified Unserved Energy (USE) risks.
"The Energy Plan is the practical response, where the Government came out and made some very significant changes to take back control of the energy system," Duffy said.
"The minister has submitted rule changes looking to develop new markets and new processes to manage inertia and frequency control."
Frontier Economics Managing Director Danny Price said the plan enabled South Australian Premier Jay Weatherill to take control of the state's energy future and enable a smoother transition to even more renewable energy.
"After the blackout, Weatherill didn't walk away from the problem, he just said, 'well these are things that have to be fixed in the absence of any national leadership'," Price said.
Associate Professor Mark Diesendorf from the University of New South Wales said the state-wide blackout was a catalyst for change in South Australia's renewable sector.
"The blackout was both negative and positive. It was a nasty shock to some businesses and households at the time but it has also galvanised action in the renewables sector in the state," he said.
"It has shown very clearly that you can't leave strategic electricity planning to the market alone – you have to have some strategy guided by the government. I think South Australia is doing that now."
Weatherill last month announced a AU$150 million Renewable Technology Fund – part of the energy plan – aimed at making the state's renewables more reliable.
The fund will provide $75 million in grants and $75 million in loans to help private companies and entrepreneurs develop eligible projects.
Assoc Prof Diesendorf said investing in renewable storage systems, like lithium ion batteries, would pave the way towards 100 per cent renewable energy generation in the state.
"There's a recognition in South Australia that the growth in variable renewables like wind and PV solar has to be balanced to some degree by storage and dispatchable renewables," he said.
"One can't run a large electricity system just on variable renewables, the system needs some storage and some backup plants and what we're seeing in South Australia, which I find very exciting, is the first batteries are going in."
South Australian renewable technology companies, many of which bid for the State Government's renewable technology funding, have further driven interest in the renewables sector.
Adelaide-based company 1414 Degrees said it could help cut South Australia's power bills by 30 per cent with its cutting-edge silicon storage power plant, which stores renewable energy at extreme heat and releases it when needed.
In August, solar technology company Fluid Solar unveiled its new head office in Adelaide, which will run completely on renewable energy, independent of the state's power grid.
Commercial-scale rooftop solar systems are also being installed at an unprecedented rate in South Australia as companies across all industries attempt to find less expensive and more reliable ways to power their businesses.
The AEMO report found that the continued growth in rooftop PV in South Australia, increased energy efficiency and the closure of the automotive industry would lead to an overall 3.6 per cent decline in consumption from the grid in the state over the next decade.
South Australia consumes about 7 per cent of the energy available on the national grid it shares with New South Wales (37 per cent), Queensland (28 per cent), Victoria (23 per cent) and Tasmania (5 per cent)
The state's position on the western edge of Australia's national electricity grid has placed it at the mercy of the eastern states during times of peak demand for many years.
However, the closure of the coal-fired Hazelwood plant in Victoria at the end of March and the recent announcement the Liddell Power Station in New South Wales will close in 2022 has spread shortfall concerns across the entire national grid.
South Australia accounts for about 40per cent of Australia's wind generated electricity.
Since the 2016 AEMO report, no new generation withdrawals have been announced in South Australia and 220MW of new solar generation and 109MW of new wind generation has met AEMO's commitment criteria, totalling 329MW of new committed generation.
Additionally, the capacity of all renewable projects proposed in South Australia currently totals about 4500MW.