Published 29-04-2021
| Article appears in April 2021 Issue
A remarkable story of transformation in manufacturing packaging machinery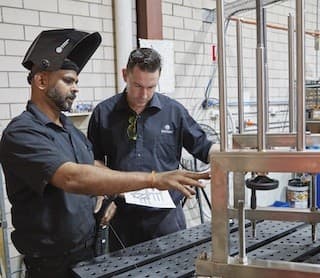 One of the most gratifying experiences for any manufacturing business owner is to take a fledgling venture and grow it into a much more sophisticated operation.
Such is the story of Packserv Australia, with Managing Director Nathan Wardell at the helm. 
Packserv is now Australia's leading packaging equipment machinery and technical services business, operating Australia wide, with offices in Melbourne & Sydney. 
Nathan has three generations of packaging machinery and manufacturing in his blood. Packserv was born 14 years ago, though Nathan has been developing his connections and the business model over more than 25 years supplying Australia's FMCG manufacturing sector.
Packserv specialises in providing on-demand packaging equipment and accessories for filling, capping, labelling, printing, coding & marking, tube and induction sealing. Packserv offers services such as delivery, installation, training, technical support and emergency breakdown cover on its rental machinery and customer-owned machines.
Nathan says that initially he was not interested in joining the "industrial application" of the family business.
"I started out as a chef and tried my hand at professional roles in food and food preparation. As well as being an engineer, I also worked in commercial accounting for various companies. It is the best preparation one can have, covering all aspects of the knowledge and skills needed to run a machinery manufacturing business, which is what happened when I took over the family business 25 years ago," says Nathan.
As part of his training for the top job, Nathan was exposed to a whole gamut of work, covering machinery, maintenance, and installations before moving to advanced pneumatics design, electrical safety testing and electrical connect and disconnect.
"My father was a machinery designer and builder and my grandfather worked in FMCG packing facilities." 
After his initial resistance, Nathan says it was interesting to come back to packaging and manufacturing at a mature age, with diverse experience and a wider skillset under his belt.
More recently, and after two years of research and development, his company started to manufacture entire machines onshore again through its Packserv Manufacturing division, to develop a range of machinery servicing the FMCG sector.
One of Packserv's biggest achievements was winning funding from the Australian Government's Entrepreneur's Program and a partnership with Business Australia, which led to the company relocating to bigger premises in Marrickville, Sydney. 
One thing is apparent from the company's history, it demonstrates that even during times of unprecedented challenge, as in the current pandemic, it is possible to grow, re-purpose, diversify and come out as an even more productive and complete business.
To protect his company's personnel during the pandemic, as well as the technical and operations team, anyone who did not need to be onsite worked remotely, and during this time Packserv focused on providing ongoing and robust customer support for clients, being on call and available, but not necessarily onsite.
Packserv has always been a member of the Australian Made movement and is proud to call itself Australian Made. 
"I certainly don't want a situation where Australia just becomes a consumer. I'd like to see Australia develop and continue to grow as a global leader in technology and provide equipment and technical services to international markets," he says. 
"I don't necessarily think that it was a good idea for skills and tools to go offshore, diminishing our capabilities and self-sufficiency."
"I think it's of critical importance that Australia isn't dependent on other countries or other supply chains to support ourselves."
Nowadays Nathan is strongly focused on taking the company's 25-year experience in packaging machinery into the future. 
"So, we are not designing machinery just for one particular product or particular type of packaging, we're developing a range of machinery that can be bolted together to perform different processes or functions on different types of packaging with different containers and products." 
With a diverse range of machinery now available, and more than 100 different pieces of technology in the rental fleet, Packserv is designing and building more than 30 different types of packaging machinery in-house, said Nathan.
Packserv has also been awarded Australian Trusted Trader status by Australian Border Control and Immigration. 
"The formulation of our Business Evaluation Action Plan was crucial to the rate of growth that we have enjoyed, and the introductions and networking opportunities through Business Australia have opened our eyes to possibilities that we previously had no idea existed," concludes Nathan.