Relieve the tension with igus Chainfix saddle clamps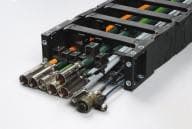 Tension reliever … new Chainfix saddle clamps from igus
Integrating strong, secure strain relief into energy chain mounting brackets is vital for good cable performance in moving applications. 
Limited space, high pull forces, vibration, temperature extremes, oil and coolant lubricants are all challenges that need to be met by any strain relief system. 
Conventional strain-relief products do not always cope well with such conditions. For this reason, Cologne-based company igus has developed Chainfix saddle clamps for fixing cables properly within energy chains. 
Laboratory tests show that their tensile strength is around three times higher than that of standard clamps (3500N instead of 1000N). 
The narrow width and low height make the optimum use of limited space when directly mounted in the energy chain mounting bracket (or through a separate C profile rail outside the mounting bracket). 
Ribbed plastic saddles ensure a positive connection with the cables and thus secure strain relief. The cables remain clamped even under very large pull so that they cannot slip out. 
New and optimised accessories are now available for quicker and even more versatile installation of the strain relief clamps. 
The part number and correct direction of installation can now be found on the top and the side of the Chainfix saddle clamps. This makes identification of parts for ordering very easy, whether the clamp is installed or uninstalled.
In addition, the double saddles have been optimised with new locating lugs, which make installation easier and more secure, thus saving on installation time. The saddles are made of optimised "igumid G" plastic. 
Abrasion-free and easy on cables, they work very well with a wide range of sheathing materials (PVC, PUR, TPE etc.). The clamps are available from Treotham Automation Pty Ltd in black varnished steel or in stainless steel, and as a single, double or triple-layer version.
A wide range of strain-relief possibilities can be achieved with the new Chainfix multi-clamps. 
Four different double-saddle geometries are now available allowing the user to install different cable diameters quickly and compactly, inside one single space-saving modular clamp. 
These multi-row multi-clamps can also fix cables with small outer diameters securely. The double-saddles can be ordered individually to combine existing systems or as ready-to-install "multi" assemblies ex stock or can be freely configured according to customer wishes.
Chainfix saddle clamps currently represent standard strain relief for energy chains of all kinds with plastic mounting brackets. In addition, energy chain expert igus offers numerous special solutions. 
Chainfix Nuggets for example, can be used for fixing cables and hoses up to a diameter of 20mm. 
This extremely space-saving and low-cost strain relief element slides easily and quickly into the C-profile rail with no tools needed. Strain-relief separators are a further special solution. 
These combine energy chain interior division components with strain relief and are particularly suitable for energy tubes.
Treotham Automation Pty Ltd
Ph: 02 9907 1778