Relax with Oliver's new non-safety work boots
31-08-2010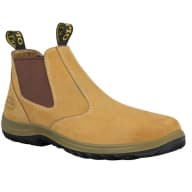 Ballarat based Oliver Footwear has brought all its long accumulated expertise with safety footwear into play with the release of the new Oliver WB 26 Non-Safety Series of Work Boots.
These durable, comfortable non-safety boots are ideal for farmers, many tradies, security personnel, home gardeners and increasingly, women, all of whom tend to spend long hours on their feet.
Oliver has introduced two new styles, with a mix of elastic sided and lace-up boots.
The new WB 26 Series employ the same GRIPthane Dual Density Polyurethane sole, the Comfortcushion Impact Absorption system, and the Aegis Microbe Shield technology used in Oliver's Safety Footwear range.
The GRIPthane Dual Density Polyurethane sole has a hard-wearing outer sole with a low density midsole for shock absorption. This soling combination is also resistant to most oils, acids and alkalis and is heat resistant to 130°C.
While the Oliver Comfortcushion Impact Absorption system combines a cellular urethane and PORON which acts as cushioning for the heel and ball of the foot reducing fatigue in the foot, leg and lower back of the wearer.
The sole pattern is designed to expel soil while providing excellent slip resistance and all styles have premium quality water resistant uppers.
The Oliver WB 26 Series also incorporates the Aegis Microbe Shield solution in its footbed to reduce bacteria that causes odour, staining and product deterioration.
The perforated air channels on the new footbed promote natural airflow to the feet and help retain the freshness of the boots especially when worn frequently.
The lace-up styles in the WB 26 Series are fully lined for greater comfort and are also treated with the Aegis Microbe Shield solution.
The two new special purpose styles in the Series designated the WB 26-660 and WB 26-670, have CORDURA fabric inserts which provide a stylish, lightweight, and water resistant upper suited to security officials, patrol personnel, and anyone needing comfortable long term wear.
The WB 26-660 and the WB 26-670 also have a convenient side zip for quick donning and doffing.
The new Oliver WB 26 Non Safety Series of Work Boots is compliant with the Australian and New Zealand Standards for electrical hazard (EH) resistance and are resistant to the material deterioration caused by hydrolysis.
The Oliver WB 26 Series of non-safety work boots is available in a variety of colours and in sizes 4 to13 with half sized increments available from 6½ to 10½.