REGULATION CONSIDERED FOR 3D DENTAL WORK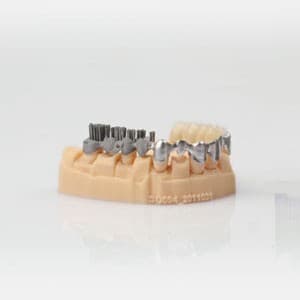 An example of additively manufactured dental prosthetics, from eos Manufacturing Solutions.
The Australian market has seen a rapid expansion in additive manufacturing and 3D techniques being applied to dentistry. 
This is no surprise: dentistry deals with a highly variable and complex part of the body, where every mouth is unique and expert precision and custom solutions are required. 
Companies like Oventus have been leading the forefront of the push, designing and creating custom products that greatly improve customers lives. 
Now, the Australian Dental Industry Association (ADIA) is reviewing the regulatory issues associated with 3D printed dental products, aiming to bring to light the massive potential advantages of the growing industry, without sacrificing safety and oversight. 
"Australia's dental laboratory sector is going through a period of immense change and there is no better example of this than 3D printed crown and bridge work. Something that was a concept only a year or two ago is today a very real option with dental laboratories now having access to this technology, even here in Australia," said Troy Williams, ADIA Chief Executive Officer.
"When it comes to competing with imported product, quality is decreasingly an issue as many overseas laboratories use manufacturing inputs than meet Australian regulatory standards for safety. The issue has been labour costs and Australia, with wage rates higher than most nations across south-east Asia, couldn't compete. 3D printing, just as with milling, changes that," Williams said.
As a prominent organisation representing dental product manufacturers and suppliers, ADIA has been working with the dental laboratory sector to help it understand and use new technologies such as 3D printing. Now ADIA is focussing its efforts on the nation's regulator of dental products, the Therapeutic Goods Administration (TGA).
"ADIA has been asked to provide advice and guidance to the TGA as it sets about developing a regulatory framework for 3D printed dental products. We are pleased that the TGA has engaged with the dental industry, through ADIA, on this matter as it reflects the fact that the regulator acknowledges the role of the dental industry in introducing new and pioneering patient treatment options," Williams said.
In working with the TGA to develop a regulatory approach to 3D printed dental products, ADIA is seeking a regulatory framework for dental products that is based on a risk management approach designed to ensure public health and safety, while at the same time freeing industry from any unnecessary regulatory burden.