REFRIGERATED AIR DRYERS USE PHASE CHANGE MATERIAL
08-02-2017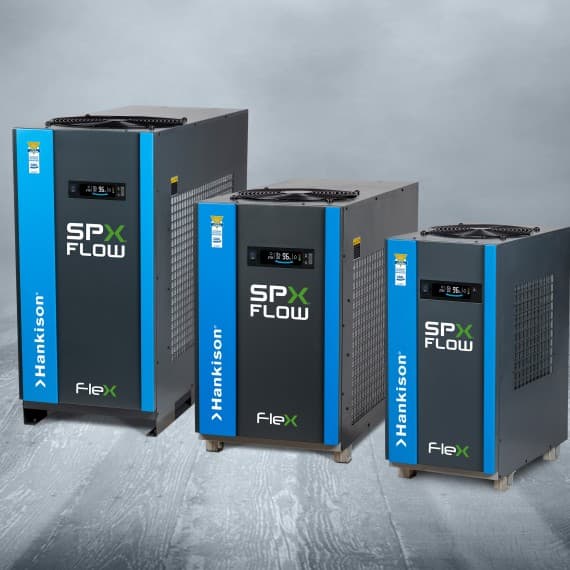 Hailed as a breakthrough in compressed air drying technology, the Flex Series refrigerated air dryer from SPX Flow uses the latest advancements in heat transfer technology, and offers an innovative approach to efficiently remove liquid from compressed air.
The new driers use phase change material (PCM), which harnesses the latent heat produced as it converts from solid to liquid or liquid to solid. While the latent heat is being absorbed or released there is no temperature change: all the energy from the heat is used to change the form of the material.
The PCM is part of a three-in-one heat exchanger, encapsulating the refrigeration and compressed air circuits. This allows the phase change material to stay colder for longer periods of time, cycling the refrigerant compressor less often than conventional energy-saving designs.
When the PCM absorbs heat from warm moisture-laden compressed air there is no significant rise in temperature.
The Flex Series can be used for a broad range of flows without compromising initial costs or energy consumption. The use of the PCM allows for more regulated temperature and fewer cycles, thereby delivering greater energy savings.
The PCM itself is an eco-friendly refrigerant that melts and solidifies above 0°C and does not require the use of glycol, pump, tank or hot gas bypass.
The Flex Series dryers are claimed to be easy to service and highly reliable. Each has an integrated controller with clear liquid crystal display for easy monitoring and operation.
SPX Flow Technology Australia
03 9589 9222
www.spxflow.com/au/