Reduce energy consumption by up to 25% with new HV Transformer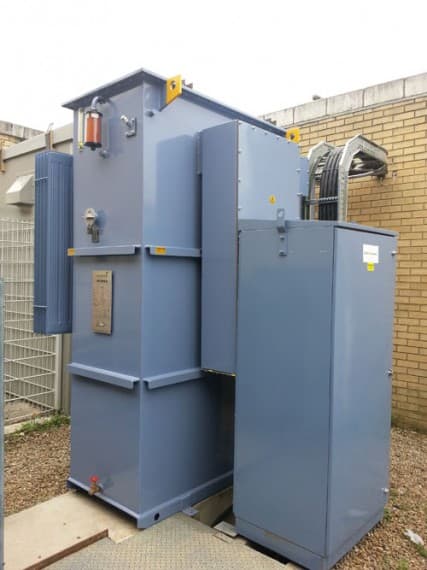 Powerstar HV MAX is a high voltage transformer with an amorphous metal core that can deliver high energy savings, reduced carbon emissions and savings of up to 75 percent more than conventional steel core transformers.
The unit uses Powerstar MAX electronic-dynamic intelligent technology to provide a variable voltage output, which will achieve high efficiency and save huge amounts of energy for a site.
Older transformers have high levels of standing losses and the majority of modern transformers used on commercial sites use Cold Rolled Grain Oriented (CRGO) steel within their core, which still provides significant losses for buildings in comparison to amorphous steel.
CRGO steel is usually supplied by the producing mills in coil form and it has to be cut into laminations that are then used to form a transformer core, which is an integral part of any transformer.
Powerstar HV MAX includes amorphous alloy, with super magnetic characteristics. It comprises a non-crystalline structure with atoms randomly arranged and quick magnetisation switches to minimise the losses.
Amorphous metal contains ferromagnetic elements alloyed with a glass former. These materials have high magnetic susceptibility (assists in increasing efficiency levels) with low coercivity and high electrical resistance.
The high resistance leads to low losses when subjected to alternating magnetic fields. This results in transformers that use amorphous metal at its core – such as Powerstar HV MAX – reducing standing losses, delivering greater efficiency and increasing savings.
Powerstar HV MAX can be used to replace older transformers on existing sites or be included in new build projects in order to provide the optimum voltage output for sites, reduce standing losses by around 75 percent and lower electricity bills by reducing on-site energy consumption.
Utilising high voltage management technology, Powerstar HV MAX combines savings achieved from replacing an older high-loss transformer with the efficient amorphous core model, with the additional benefits of integrated electronic-dynamic intelligent technology, thereby producing a variable voltage output.
Simply replacing a HV transformer with a super-low-loss amorphous core transformer will provide savings of between 3-10 percent compared to traditional transformers, along with reduced transformer losses.
Powerstar HV MAX also combines Powerstar's existing electronic-dynamic voltage optimisation technology to provide a further 12-15 percent saving. Therefore, the expected energy savings from Powerstar HV MAX could range from 15 percent to 25 percent.
Powerstar HV MAX provides one combined solution to two common problems whilst also eliminating the issue of over voltage at source before it enters a site, which achieves high voltage management efficiency.
HV MAX should be considered for any site that has its own HV distribution transformer. Powerstar HV MAX is ideal for new build developments, sites with older transformers and sites that have previously had physical space restrictions making voltage optimisation installations difficult to implement. This is because HV MAX can be installed outside, correcting issues before they enter they site.
The electronic dynamic technology of the HV MAX ensures that voltage is supplied to a site at a constant level regardless of the input instability.
Companies choose to install Powerstar HV MAX technology because when the grid voltage varies (often throughout the night as the load on the grid disappears), the HV MAX technology is able to hold the site voltage at the optimum level and maintain a higher level of savings.
The stabilised voltage output offered by the HV MAX technology is a vital feature for sites with critical loads, secure data and important operations that require high levels of reliability and security. Example sites include supermarkets, data centres, hospitals, hotels, education facilities and retail outlets.
Powerstar HV MAX offers an innovative high voltage management, energy saving solution that provides significant reductions in electricity consumption and financial savings.
HV Transformer vs Standard distribution transformer
Powerstar HV MAX is an electronically variable super-low-loss amorphous core high voltage to low voltage transformer with an integrated voltage optimisation triple-wound Powerstar system.
The HV transformer and electronic-dynamic voltage optimisation solution is specifically designed to provide a system that is dedicated to saving energy.
Powerstar HV MAX is the only fully electronically variable HV transformer currently available on the market. The benefit of having an electronically variable HV transformer is that regardless of the grid voltage variations the Powerstar HV MAX will provide a fully regulated voltage output at the specified voltage (±1.25V).
The Powerstar HV MAX, can accept up to 33,000V input into the HV transformer and provide a fully electronically regulated output at 380V (user defined).
The voltage output can be altered locally through the HMI or remotely (via the Internet as units are IP addressable), through BMS (ModBus) and through GPRS (remote access).
Standard distribution transformers are simple step-down double wound (Delta – Star) transformers. Their main purpose is to reduce the high voltage to low voltage.
Regarding system losses, both iron and copper losses are significantly higher than super-low-loss HV transformers, and losses from Powerstar HV MAX are even lower due to its unique design.
Even with super-low-loss standard HV transformers, the iron and copper losses are at least 30 percent more than the Powerstar HV MAX system.
Reducing the voltage on the HV site as standard transformers do, results in the increase of the I2R losses within the transformer. For example, a 5 percent voltage reduction on the HV will result in a minimum 25 percent increase in the transformer losses.
Therefore, it is not advisable to install an HV transformer and set the output voltage to 380V for these reasons:
1. Increase in the I2R losses.
2. Risking low voltages with the grid HV variations.
The tappings of a standard HV transformer, which allow voltage variation on the HV site, are not automatically variable. There are mechanical auto-tap systems but these are exactly what they say, mechanical. In the event of these auto-tap systems failing, there is a loss in the electricity supply.
With Powerstar HV MAX, all tapping changes are electronic (solid state with no maintenance required) and in the event of the electronics failing, these are automatically bypassed and the site electricity is fully maintained.
Powerstar Australia
Ph: 1300 659 463