Published 23-06-2020
| Article appears in June 2020 Issue
REDUCE DOWNTIME WITH OPTIBELT TENSION TESTER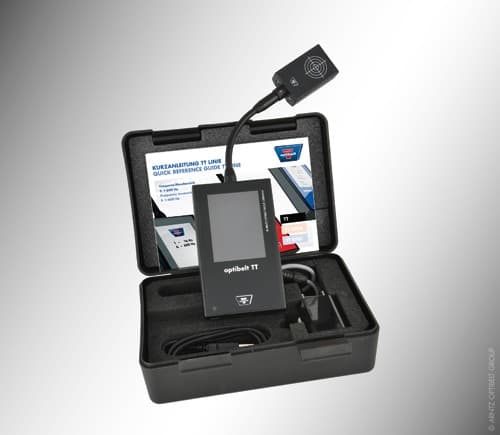 For the fastest and most accurate way to test the tension of your drive belts, take a look at the new TT line frequency tension tester from Optibelt.
The Optibelt TT line tension tester measures the frequency of a belt's vibration, resulting in extended belt and pulley life and a reduction in downtime.
Compact design offers the Optibelt TT line tester universal application possibilities from an endless range of drives across the engineering, automotive and transport industries, as well as many other technical applications within industry. The Optibelt TT is suitable for even the most difficult to reach places, making possible quick checks of tension in V-belts, ribbed belts, kraftbands and timing belts.
After it's switched on, the Optibelt TT is ready to transfer data once the user has positioned the measuring head over the belt (with the aid of two red LEDs for accuracy).
Once the tensioned belt is made to vibrate by plucking or striking it by hand, the Optibelt TT immediately takes readings, showing the results in hertz regardless of the belt's condition or colour. Tension recommendations can be taken from Optibelt specifications, CAP drive design calculations of the Optibelt app.
The Optibelt TT is unaffected by UV light noise, and is interference-free when using measuring methods such as electromagnetic waves and acceleration integrated. Too much movement will cause the red lights to turn off, and the display to read 'Rapid Move' until the tester is steady.
An unprecedented wide high frequency range of AC: 1-16Hz and EM: 6-600Hz makes the Optibelt TT ideal for use on long centre distances. The tester's battery can last 300 belt measurements on a single charge.
For particularly tricky belt spans, the Optibelt TT's measuring head has a flexible goose neck and a 250mm cable AC. The unit has a large, easy-to-read backlit 43x53mm display screen, a USB port for recharging and an automatic switch-off.
The Optibelt TT comes in a kit containing the tension tester, measuring head, charger, USB cable and a clipper for holding the measuring head, and is available now from automotive, transport and industrial wholesalers.
For more information contact Optibelt Australia at sales@optibelt.com.au on 03 8791 2700.
Optibelt Australia
03 8791 2700
www.optibelt.com