REDUCE COSTS WITH TENNANT FLOOR CARE SOLUTIONS
15-05-2015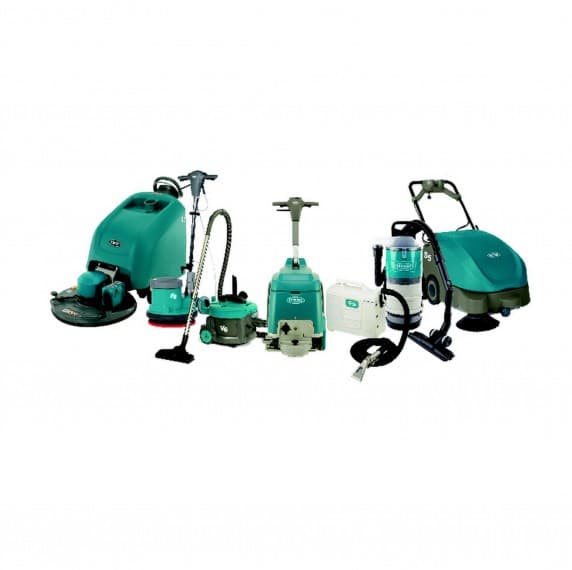 Tennant is well known for its industrial scrubbers and sweepers, but the company also offers a variety of sustainable floor cleaning solutions for all industrial facilities.
Tennant provides high performance equipment to help reduce the cost to clean, enhance your facility's image and improve environmental health and safety for customers and employees.
The range not only includes scrubbers and sweepers, but also battery powered burnishers, carpet extractors and vacuums.
Tennant has a comprehensive range of walk-behind and compact ride-on scrubbers to suit most environments and applications.
Tennant scrubbers are available with innovative ec-H2O technology, which utilises tap water, removing the need for chemical detergents.
This also results in no chemical residue left on the floors, improving floor traction and significantly reducing slip and fall risk.
Tennant scrubbers are also equipped with exclusive water recovery systems to ensure complete water pick up even on 180-degree turns for virtually dry floors in seconds.
Sweepers
As well as large ride-on sweepers, Tennant has a range of smaller walk-behind sweepers perfect for indoor and outdoor applications.
Equipped with TwinMax sweeping technology, all types of debris can be collected from small dust and leaf matter through to aluminium cans and litter without the need to change brushes.
Tennant's walk-behind sweepers also work exceptionally well on carpet.
Battery-powered burnishers
Tennant has a range of recently launched battery-powered walk-behind burnishers that produce high gloss results, minus the emissions and noise pollution traditionally associated with burnishing.
Tennant's battery burnishers are the industry's only walk-behind burnishers with HEPA dust control filtration as standard, to maintain indoor air quality.
With no emissions and ultra-quiet operation, Tennant's battery powered burnishers deliver high performance, maximum efficiency and superior results.
Carpet Extractors
Tennant provides a range of interim carpet cleaning machines and extractors equipped with exclusive ReadySpace technology.
Tennant's ReadySpace cleans and dries carpets in under 30 minutes and allows for the removal of soils before they become embedded in the carpet fibres.
This means that carpets remain cleaner over time and extraction is required less frequently.
ReadySpace uses 80 percent less water to clean, and leaves up to 90 percent less water in the carpet compared to traditional extraction methods.
Vacuums
Tennant also has a complete line of upright, backpack and canister vacuums.
Tennant vacuums are durable and versatile with heavy-duty, dual motor, wet-dry, and wide-area vacuum options available.
Most vacuums are also available with HEPA filtration systems to maintain indoor air quality and provide superior dust control. 
Contact Tennant for a full site cleaning assessment.
Tennant
Ph: 1300 8366268 (TENNANT)