| Article appears in June 2019 Issue
REDARC CELEBRATES 40 YEARS OF MANUFACTURING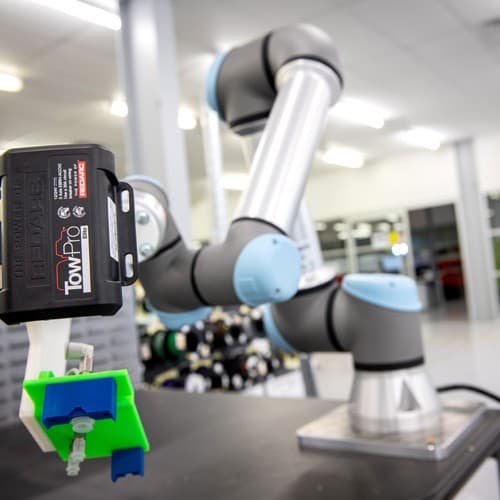 REDARC has invested in cobots
REDARC Electronics has come a long way since it started designing and manufacturing vehicle ignition systems out of a modest shed at Lonsdale in Adelaide's southern suburbs in 1979.
Now celebrating 40 years in manufacturing the company has grown from its humble beginnings to become a world-class advanced electronics manufacturer with more than 200 employees … still based at Lonsdale, but in much larger and more modern premises!
The proud South Australian company manufactures a range of electronic products for vehicles that use battery power – such as cars, boats, caravans, trucks and buses – including cutting-edge battery chargers, power supplies, brake controllers and trailer braking products through to high-tech voltage convertors and inverters.
Servicing recreational and heavy vehicle users including local and international defence, mining and marine industries, REDARC's success over the past four decades has been founded on providing premium quality, locally manufactured solutions.
REDARC recently finalised a $22 million factory expansion project, including investment in its advanced manufacturing capabilities, which is already serving to elevate its reputation on the world stage.
The major investment in the company has been directed towards new state-of-the-art surface mount technology, new advanced testing and validation equipment, the latest in robotic technology, and the implementation of a new enterprise resource planning system.
There is also an additional 3000m2 of advanced manufacturing space in REDARC's Lonsdale factory, including sustainable new power infrastructure, while new jobs have been created to build on the company's highly skilled workforce.
Owner and Managing Director of REDARC, Anthony Kittel, says the expansion – which was completed in November last year – has already seen key areas of the business grow, while simultaneously improving processes and efficiencies, as well as the quality and durability of the company's products.
"Expanding the business has given us more flexibility leading into the future as we enter new export markets and defence industries, making us more agile to deal with our customers' ever-changing needs," he says.
"Our technological expertise was already extremely high, but my business mantra has always been that no matter how well you do something, you can always do it better, so that's essentially what drives us to invest and grow.
"For example, our new surface mount technology line is now specified so highly that it's one of only a few in the world of its type, giving us the ability to increase our production capacity by 250%.
"Our new advanced testing and validation equipment has also significantly improved our manufacturing techniques, productivity and overall quality, while at the same time decreasing logistical burden and reducing our new product development cycle costs and schedules.
"Our investment in Universal Robots, otherwise known as cobots, are designed to accurately conduct difficult or repetitive work in tight confines and work safely and collaboratively next to our people within the factory."
Kittel pays tribute to his staff for turning REDARC into a world class electronics manufacturer over recent years, and also credited business partners such as BankSA for supporting the company's ambitions.
"There's no doubt that our staff have made REDARC what it is today. We have such a highly skilled workforce who drive research and development every day so that we can continue to push the boundaries of what we're able to provide our customers," he says.
"There have been many other key stakeholders in the company's success too, including BankSA for example, who we've banked with for more than 20 years.
"To survive and prosper in this industry you definitely need a supportive bank, and we certainly have that in BankSA, which understands our business and the importance we place on continual improvement, including our latest $22 million investment which they played an integral role in."
David Firth, General Manager Corporate and Commercial Banking at BankSA says: "Manufacturing still comprises a significant share of economic activity and accounts for approximately 1 in 11 jobs in the state. It remains important to us to continue our support of the many wonderful family businesses like REDARC in the manufacturing and wholesale sector in South Australia - it's good for the state and the economy."
Anthony Kittel says lower quality, lower priced products from overseas competitors continues to pose a challenge for the business, but it is one that it continues to overcome through vastly superior quality standards and unrelenting innovation.
Indeed, REDARC's steadfast commitment to perpetual innovation has deservedly been recognised by many of the industries in which it operates, including a swag of recent awards.
In April this year, the company won the Australian Automotive Aftermarket Association's Award for Excellence in Manufacturing, before also being honoured at the Manufacturer's Monthly Endeavour Awards in May by taking out the Australian Industrial Product of the Year. REDARC also recently won the inaugural Gerry Ryan OAM Award for Innovation at the 2019 Caravan Industry Association of Australia Awards.
"Innovation is one of our leading company values, and by ensuring an innovative culture, we continue to find success," says Kittel, adding that REDARC invests 15% of annual sales revenue into research and development.
"These awards highlight REDARC's innovation capability, but more importantly, reflect a true team effort to keep creating and improving products that not only meet our customers' expectations, but exceed them."
To learn more about REDARC and its latest expansion, watch the company's new factory tour video at www.redarc.com.au/facilities
BankSA
www.banksa.com.au/manufacturing