Red Lion: a logical display solution
28-07-2014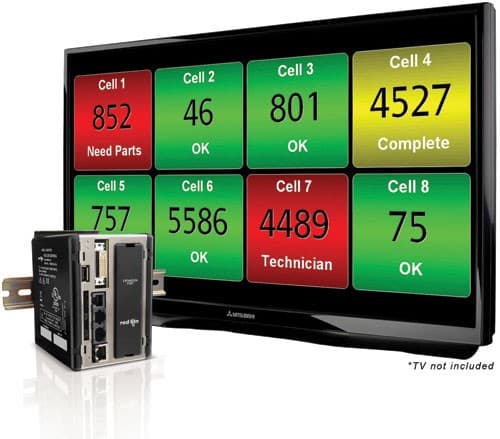 The ProducTVity Station by Red Lion, is a ready-to-deploy solution for collecting, recording and displaying critical key performance indicators (KPIs) and machine status messages on any TV, monitor or projector equipped with a DVI/HDMI interface.
Relatively small in size and easy to use, the ProducTVity Station lets users create their own interactive, real-time productivity scoreboard and Andon system in minutes using any consumer model LED/LCD or plasma TV. 
With a library of over 200 communications drivers, the ProducTVity Station can communicate to PLC's, VSD's, power meters, bar code scanners and more.
Determine at a glance what areas may need improvement or how production levels are doing in real time from the factory floor. 
Extend monitoring to remote personnel by providing email and text alerts, with its built-in webserver allowing productivity information to be monitored via any networked PC or smart-phone. 
Drag and drop data mapping to PLCs, PCs and SCADA systems and synchronize with FTP servers and/or Microsoft SQL Server for further analysis.
There are three built-in independent serial ports plus one 10 Base-T/100 Base TX Ethernet port capable of communicating 10 protocols simultaneously.
These features are complimented by USB and CompactFlash ports that allow tracking and logging of data directly into IT friendly CSV files. 
The ProducTVity Station, now available from Control Logic, contains a 32-bit main processor to calculate complex and time-based metrics.
Control Logic
Ph: 1800 557 705