RED LION'S COMPACT ETHERNET SWITCHES DELIVER RELIABILITY AND PERFORMANCE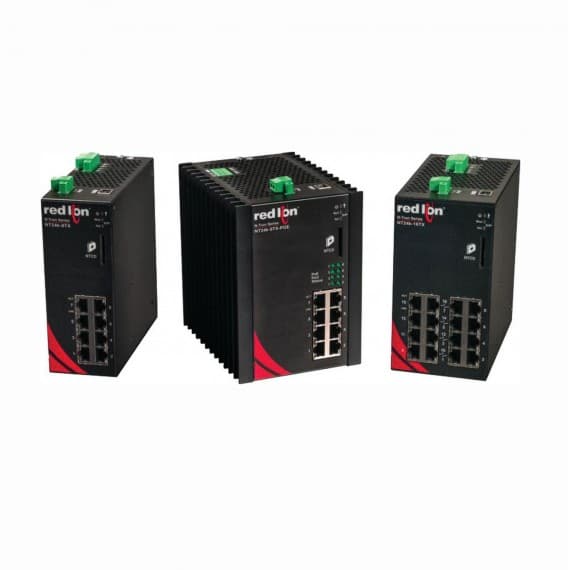 Industrial Ethernet has certainly come along over the years and so has our dependence on the IT hardware that is the conduit for system critical data.
We are now going away from proprietary buses and relying on Ethernet as the answer to all communications for monitoring and automation controls because it's simple to connect, easy to create reliable networks with redundancy and best of all it's available!
However this creates a problem for increased bandwidth to cater for devices connecting exponentially to the network, such as PLCs, VSDs, IP cameras, protocol converters and so on.
It seems Red Lion have invested their resources and focus to develop the most reliable Gigabit Ethernet networks.
The latest addition to the NT24K series industrial managed Gigabit Ethernet switches is a compact DIN-rail mountable version.
The new series delivers full Gigabit wire-speed performance with the option of Power over Ethernet Plus (PoE+), long life duration in harsh environments in a small durable enclosure for limited space footprints. 
To improve on past iterations, it has been developed from the ground up to properly maximise media options, network speed and switch management.
With a compact hardened metal housing, the NT24K compact series arrives in 3 new models that vary slightly depending on network demands.
With an industry leading shock (200g) and vibration (50g) tolerance, Red Lion claims an operating temperature range of -40°C to 85°C and a Mean Time Between Failure over 2M hours to ensure optimal network reliability for the harshest of industrial environments.
All models feature Red Lion's 'N-Ring™' technology that allows ultra-fast (30ms) recovery for redundancy ring containing up to 250 nodes, automatic configuration, backup and restore capability to provide reliable plug-and-play solutions for critical monitoring and communication applications.
The existing NT24k product family include rack mount and Din Rail 2-3 bay Modular solutions, whereas the newest addition provides a compact DIN-rail enclosure.
The eight port version is only 57mm wide with the option for IEEE 802.3af/at Power Over Ethernet (PoE+) and the sixteen port 78mm wide.
The whole range offers a full set of management features and security to provide best-in-class visibility, security and uptime performance.
These included the standard VLAN, QOS, SNMPv3 as well as industrial specific: Auto-IGMP configuration, Ethernet/IP with CIP messaging, N-Ring™ and N-Link™ ring technology, N-View™ monitoring (to remotely monitor your network), event logging, SNTP and IEEE802.1x with RADIUS remote server authentication.
The NT24k series should prove to be more than efficient meeting industrial requirements. It has a ton of useful features for easy network deployment and real time monitoring to ensure your network is future-proof with Gigabit Ethernet.
Red Lion suggests it would be best suited for factory automation, alternative energy, utilities, water/waste water, and security and transportation environments. If you are thinking about possible network expansions down the track then the NT24K switches are worth a look.
Red Lion products are proudly distributed by Control Logic.

Control Logic
Ph: 1800 557 705