RECYCLING EQUIPMENT HELPS TOWARDS ACHIEVING ZERO LANDFILL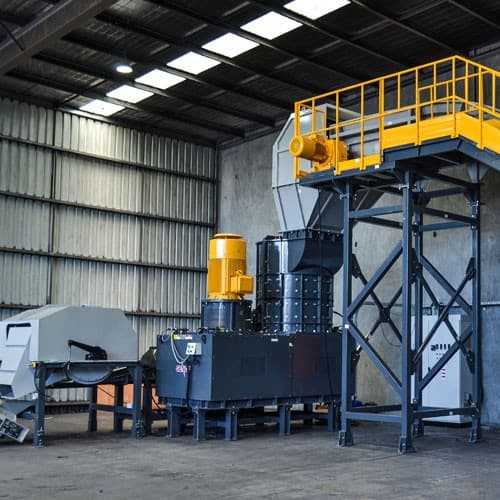 December 2016 saw the installation of a huge Genox Z1500 vertical shredder in Melbourne as part of an e-waste line customised for size reduction and separation of toner cartridges
Waste reduction and associated recycling has become a crucial part of the Australian landscape in recent years, and plays a key role in minimising landfill by using recycled material in the manufacture of new products.
The Genox range of granulators, shredders, wash plants and complete recycling lines available in Australia from Applied Machinery are playing a major role in helping companies in their quest towards zero landfill.
To date over 150 Australian companies have selected the Genox brand for a reliable, cost effective and environmentally friendly solution for their waste reduction needs.
For plastics processing, the Genox range includes single shaft shredders, twin shaft shredders, granulators, washing tanks and dewatering centrifuges. For e-waste, the range includes shear shredders, heavy-duty granulators, vertical crushers (densifiers), eddy current separators and various types of air separation systems.
"We pride ourselves on the quality of the Genox range of shredders, granulators, wash plants and complete recycling lines. They have proven to be a reliable and cost effective solution, and go a long way to assisting our customers to achieve their environmental goals and KPIs. They have emerged as Australia's favourite solution for all kinds of waste and materials reduction applications," says David Macdonald, Managing Director of Applied Machinery.
Applied Machinery
03 9706 8066
appliedmachinery.com.au