RECYCLED RUBBER RACING TRACKS GALLOP AHEAD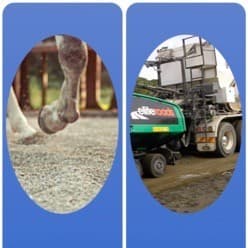 A recent trial of an innovative new horse track surface, made with a mix of recycled tyre rubber, has yielded exciting results.
Following a successful trial installation at a private horse stud in 2016, Flexiroc Australia installed its Equine Air paving product on 550m2 of approach track at one of Racing Victoria's premier facilities, Pakenham Racing Club's Tynong complex, late in 2018.
Equine Air's free-draining track profile has demonstrated its ability to drain the surface quickly after rain, allowing greater all-weather use. The bound rubber product provides a cushioning effect and less concussive riding forces, delivering superior performance and lowering the potential for injuries to both horses and riders. The exclusion of loose stones, which occur in current tracks, further reduces the potential for injury.
The Tynong trial track used 27 tonnes of recycled rubber, the equivalent of more than 3,000 standard car tyres. The successful trial presents the opportunity for the conversion of more tracks at the complex, with the long-term potential for the use of a substantial volume of rubber granulate as more tracks are converted. Each full track would use at least 600 tonnes of recycled rubber.
Equine Air can be used for synthetic fibre tracks and sand tracks, and in mounting yards, horse walks and associated areas. Its innovative geotechnical profile design allows it to be laid as a single layer directly on a prepared track base using conventional paving equipment, reducing construction time, and to be laid over problematic ground conditions.
Flexiroc is already a proven product for sports surfaces for human use, and the company anticipates that this trial will lead to Equine Air becoming the benchmark for Racing Victoria's training surfaces. Flexiroc also sees opportunities around the world and with other animal species.
Equine Air is just one of a broad range of new product development that Tyre Stewardship Australia has been involved with as it seeks to develop valuable markets for materials derived from recycled tyres. In surface uses alone, innovations have included new mixes of crumbed rubber asphalt, permeable paving and artificial playing surfaces.
According to TSA Market Development Manager, Liam O'Keefe, "Equine Air is one of a new generation of innovative products in the paving and surfacing industry that not only deliver a better on-site outcome but also offer a major beneficial end-use of tyre-derived material. The work that TSA, and our project partners, have been undertaking in this space is certain to deliver major practical and environmental dividends in the near future."