REALISE THE FULL POTENTIAL OF IIOT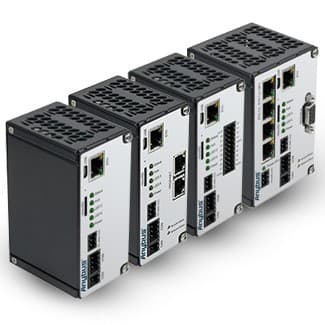 Connecting and integrating data between industrial operations, on the one hand, and enterprise systems and IoT software, on the other, and making the system secure, is anything but simple. HMS Networks addresses this problem with a new end-to-end concept featuring Anybus Edge Gateways for connecting to industrial hardware, the HMS Hub, its new solution for secure data connectivity and integration to IoT software, and a customisable Hub portal with data management and visualisation features.
With Edge Gateways, data from devices and machines can be accessed in an easy and secure way, also allowing full data and device management over the application's lifecycle. Installed on the factory floor, the Edge Gateways enable intelligent decentralised operations to be executed close to data sources. From the gateways, user-defined data is provided via the HMS Hub to the cloud over a secure connection. Perfect for monitoring applications, the solution also enables all connected industrial equipment to be controlled from IoT applications in a smart way.
The Gateways are tightly connected to the HMS Hub, HMS's new solution for industrial data connectivity. It includes a powerful broker that provides services and actions to manage inbound and outbound gateway data, including all configuration, device management and security aspects. It also enables full data integration to third party clouds and enterprise systems in a simple and secure way, allowing the value of the system to be realised for all types of industrial IoT applications.
IIoT systems in factories today need to be capable of handling future changes and threats. Devices and machines need to be updated over their lifecycles, not least since the biggest security threat for any system is an out-of-date device with a known vulnerability.
The Gateways and the HMS Hub are designed to meet the highest requirements for security and data integrity as well as device management. With these elements combined into an end-to-end solution, users keep full control over their data, which is also being fully protected. Device management features allow for the system to be controlled, monitored and updated, ensuring that threats can be averted and that the system can be updated in future scenarios.
The first release of Edge Gateways offers gateway connectivity to industrial equipment on Profibus, Profinet, Ethernet/IP, M-bus, and analogue and digital I/O. More connectivity options will be added in later releases, wireless as well as wired.
Global M2M
03 9338 8189
globalm2m.com.au/