REAL-TIME MONITOR KEEPS RACKING SYSTEMS SAFE
28-06-2017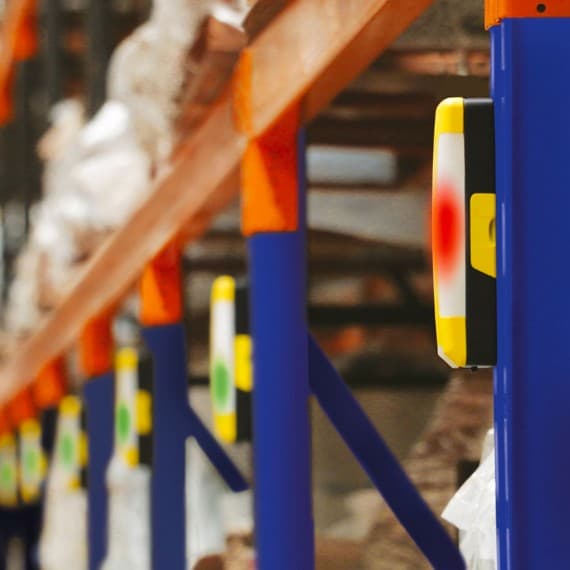 Available now in Australia from A-Safe, RackEye is a one-of-a-kind live monitoring system that keeps watch over racking systems in warehouses and other storage facilities.
Even in the best-run warehouses, the legs of racking systems are subject to impacts. These may range from a gentle nudge from a pallet truck to a full on impact from a loaded forklift. And while any given impact may not bring the whole rack crashing down, it can weaken the system, leaving it in an unsafe condition.
The consequences of a rack failing can be catastrophic. The resultant collapse can endanger the lives of employees, and the cost of damaged stock and loss of business during the clean-up can be considerable.
Australian Standard AS 4084-2012 on steel storage racking mandates that safety inspections be carried out at least every 12 months, and standard practice is to perform such checks more frequently. But the time taken to visually check a large installation can be considerable. And time is money.
This is where RackEye comes in, providing continuous rack monitoring in-between annual inspections.
RackEye uses patented sensors that have been developed and rigorously tested to differentiate between everyday bumps and impacts that cause damage, including deflections that may not be easily visible to the naked eye.
When a significant impact occurs, the affected RackEye sensor flashes and nominated personnel are alerted via the system's smartphone app and email, giving precise details about the location of the damage so that immediate action can be taken. This early warning not only improves workplace safety, it prevents the potentially disastrous consequences of undetected damaged racking.
The RackEye system continually tracks and records all impacts, providing a complete history for every rack leg in a constantly evolving database. The data are stored on a secure server and accessible at any time from any device, making it an excellent tool for health and safety managers who may need full visibility across multiple sites.
Experience from early deployments of RackEye suggest that the presence of the system itself encourages safer driving as forklift drivers know they are being monitored and will be accountable for damage. This is particularly useful in high-traffic areas and blind corners – some of the most frequent areas where collisions can occur.
A-Safe Australasia
02 9625 8927
www.rack-eye.com