REAL-TIME DATA COLLECTION DRIVES INSIGHTS INTO PERFORMANCE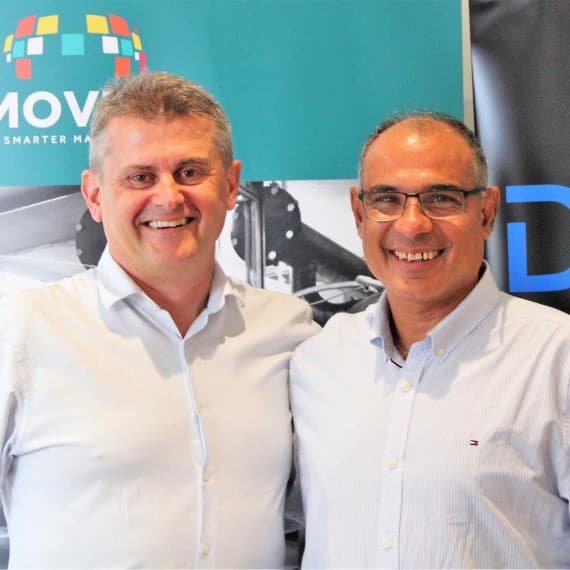 Brad Parson, Movus and Raghav Mehra, Denver
Production, operations and maintenance managers can now access data-driven insights into asset performance for faster decision-making, following a strategic partnership between Movus, the Australian developer and provider of continuous condition monitoring solution FitMachine, and global IT solutions provider Denver, to automate the input of real-time asset condition data into enterprise asset management systems like IBM's Maximo.
The partnership is part of Denver's Asset Performance Solutions portfolio and completes the connected asset picture by bringing FitMachine's data into business systems, allowing for better asset visibility, planning, management and optimisation. Ultimately, it allows clients to kickstart their Industry 4.0 journey and realise the business opportunities of the IIoT.
FitMachine is unique, as it builds a model for every asset. It starts by collecting real-time condition data and quickly learning what is 'normal'. From then on, it monitors for subtle changes in condition that are often the early warnings of more serious issues. With extensive experience in complex industrial environments, Denver realised the value of FitMachine insights and brought to market cloud-based integration into asset management systems like Maximo, providing asset owners with full visibility into the health of their fixed assets and the ability to minimise unplanned production interruptions and downtime.
Denver CEO Raghav Mehra says: "We continue to help asset intensive organisations drive operational improvements and efficiencies of their business systems. Our partnership with Movus is supporting our customers in connecting their assets to IBM's Maximo Asset Management software and provides unprecedented insights to drive improved asset management strategies."
Movus CEO Brad Parsons adds: "Movus is very excited to partner with Denver, who have decades of asset-heavy industry experience and an offer complementary to ours. FitMachine is the missing component to a data-driven approach to industrial machine maintenance. This partnership is already helping our joint clients embark on a 'connected assets' journey and is instrumental in consolidating FitMachine's leadership in the Australian marketplace."
Movus and Denver are currently working together in the Australian and North American markets. They will be showcasing their joint offer at the Solving the Connected Assets Challenge event, at IBM's Brisbane offices on 3rd July.
Movus
www.movus.com.au