R&D SEEDING GRANTS FOR FUTURE SUBMARINE PROGRAMME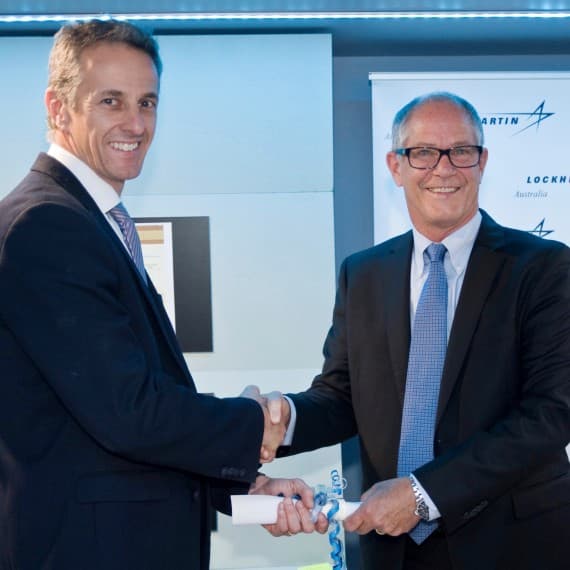 Scott Elson, L3 Oceania and Mike Oliver, Director, Submarine Program, Lockheed Martin Australia
Defence technology and innovation company, Lockheed Martin Australia has announced research and development seeding grants totalling more than $900,000 to local defence industry and academic partners to develop advanced technologies for the Future Submarine Programme.
The grants are part of a long-term, multi-million-dollar investment in R&D to develop the advanced technologies needed to deliver and maintain regional superiority. In this first round of grants, 10 partners will receive 13 grants of $75,000 each.
The recipients represent the best of innovation and high-value skills in the defence industry and academic communities, and were selected after a competitive process. Representatives from two of the recipients attended a ceremony at Lockheed's state-of-the-art Combat System Laboratory in South Australia, to acknowledge their participation in the R&D programme.
Adelaide's Flinders University was selected as a research partner for the topic Identification of novel operational concepts associated with the use of uninhabited and autonomous systems by a submarine.
"I am delighted that Flinders University has been selected by Lockheed Martin Australia to develop advanced technologies for the Future Submarine Programme", Vice-Chancellor Professor Colin Stirling said. "Research and development is an essential element of building sovereign capability. This announcement further demonstrates Flinders University's growing national and international reputation as a defence industry partner of choice."
Wollongong's L3 Oceania was selected for two topics, Methods and technologies to improve communications with and between submarines and Improving the performance of video communications for use between a submarine and emergency rescue forces.
"We're very pleased to be selected as an R&D industry partner to Lockheed Martin Australia for the Future Submarine Programme," Sales and Marketing Director Scott Elson said. "This grant will enable us to explore advanced and innovative technologies to improve communications with above the water platforms and between submarines, including the enhancement of video communications for submarines at depth to enable emergency rescue operations.
"We've had many years' experience working with the RAN on submarine communication systems for the Collins Class, as well as maritime ranging operations, so we're excited to put the specialist skills and knowledge we've developed from working on these systems to further Australia's capability with the Attack Class. We're proud to be a part of such a significant program supporting the Commonwealth's sovereign shipbuilding capability."
Vince Di Pietro, Chief Executive of Lockheed Martin Australia and New Zealand, said: "We are very proud that nine of the10 organisations selected are Australian SME organisations and universities, and this is an important realisation of Lockheed Martin Australia's commitment to develop and deliver the Future Submarines as a sovereign capability.
"At Lockheed Martin Australia we work very hard to ensure our relationships with academia, and industry partners makes a real difference and raises the technology base for Australia.
"Initiatives such as our R&D Programme for the Future Submarines demonstrate our commitment to work with Australian academia and industry to discover and evolve the best of breed technology not just for Australia, but also potentially to a global audience."
Following a further RFI process, another round of grants is expected to be announced later in 2019.
Lockheed Martin Australia
02 6150 6500
www.lockheedmartin.com