Published 06-07-2021
| Article appears in August Issue
Ratio clamps – an alternative solution for dangerous loads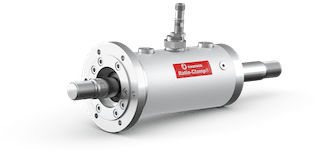 Herbert Haenchen, a major European manufacturer of hydraulic cylinders, offers a safety clamping system called ratio clamp. It provides fail-safe load support that meets European safety standards.
The system clamps on loss of hydraulic pressure, making it suitable for instances where the normal method of supporting loads using a hydraulic cylinder with hydraulic lock valves is considered unsafe. This may be due to the possibility of lost load-holding ability, caused by the failure of either hydraulic valves or cylinder seals.
The ratio clamp is available in three configurations:
Mounted on the front of a Haenchen hydraulic cylinder.
Mounted on the front of an existing cylinder that has sufficient rod end extension to accommodate the clamp.
Mounted to a separate rod, which is installed next to an existing load-holding cylinder. This alternative allows more than one clamp to be used to support the load and is particularly useful when the vertical distance available for the clamp is limited. This gets around the problem caused by the length of a cylinder and clamp being greater than the daylight available for its mounting.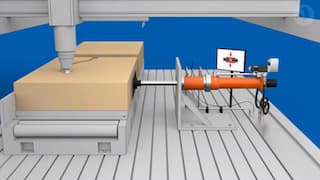 The patented clamping unit, Ratio-Clamp, protects humans, machines and tools in case of a power failure or system shutdown. It fixes axes during the process or for highly dynamic applications and test processes.
Application areas of the hydraulic clamping device:
Fixing of all types of round rods in any position
Out of a standstill
Clamping force without energy supply for unlimited time
An additional safety component for gravity loaded axes
The application of this device includes: metals processing, aerospace and mining industries, and more.
Quality, European-manufactured products to provide fail-safe load support are supplied by Hylec Controls. To enquire, email sales@hyleccontrols.com.au.