RAPID AUTO ROLL DOORS FROM DMF
17-07-2015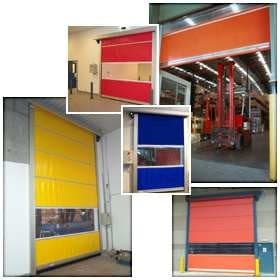 DMF International has a comprehensive range of high speed roll doors, suitable for a variety of applications.
These rapid auto roll doors can control temperature, dust, noise and wind, while providing strong security.
DMF manufactures its own doors in Sydney and Melbourne.
It is also the exclusive agent for high quality Efaflex High Speed Doors from Germany.
These fast acting PVC or aluminium roll doors are custom manufactured to suit the requirements of your work site. They are suitable for small to large openings.
Doors can be activated by various and optional automatic or manual systems. Each model has special safety features, including PE sensors, safety auto reverse, special light curtains or IR sensing, or a flexible bottom rail.
The doors compliment other DMF doors, such as Swingflex, Visiflex strip doors and Auto BiFlex door – all used for climatic control of your working area.
Door control options
Achieving the best performance from your Rapid Roll door is dependent on the opening device that best suits your application. Your choice will depend on many factors including the speed, mix and frequency of traffic flow.
Choices may include:
· Push Buttons
· Pull Cords
· Photo Cells
· Radio Control
· Radar Motion Detectors
· Induction Floor Loops
Also, DMF can assist with design requirements.
DMF International
1800 281170
www.dmf.com.au