| Article appears in February 2020 Issue
RAISING THE ROOF ON NEW YORK'S NEW TRANSPORT HUB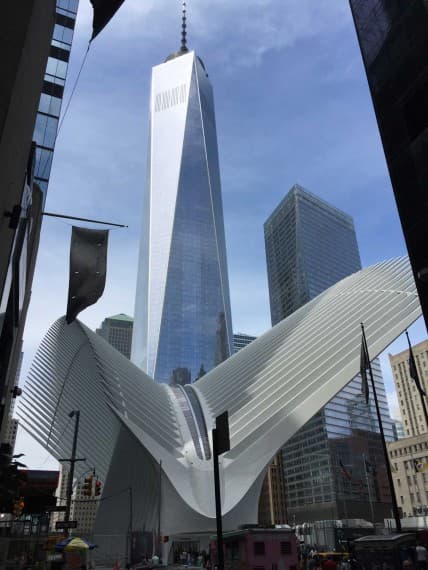 German manufactured Winkel bearings and profiles have been used in the construction of the newly opened World Trade Center Transportation Hub in New York.
The US$3 billion Transportation Hub and four new skyscrapers occupy the site of the former World Trade Center that was destroyed in 2001.
The Transportation Hub was designed by star Spanish architect Santiago Calatrava and provides transit connections to train and subway lines and ferries as well as linking the various buildings of the emerging World Trade Center Complex.
The most striking feature of the building is its futuristic roof: it is made of glazed steel ribs soaring upwards in the shape of a V for more than 50m, and is modelled on the wings of a bird taking flight, according to Calatrava.
To let in sunlight, the entire roof can be opened up to 10m in the middle so the bird is seemingly flapping its wings – an effect made possible by the Winkel bearings and U-profiles.
Built into the roof of the Transportation Hub, these components make up a robust and durable guide track system that handles the extreme loads during the opening and closing of the rib structure.
Winkel delivered a total of 224 bearings with flange plates and 445m of U- profiles for the project. The bearings have a special anti-corrosion coating to protect them from the elements.
"Of course we are proud to play our part in such a historic and innovative project," says Winkel's Bernd Rudolph. "The Winkel bearings in conjunction with the U-profiles are the ideal solution for this difficult task. They can withstand enormous static and dynamic loads, have a long service life and are easy to install and replace."
Winkel bearings are available in Australia from TEA Transmissions.
TEA Transmissions
07 4129 2533
www.tea.net.au