Raising mental health awareness in construction is a good reason to Dig Deep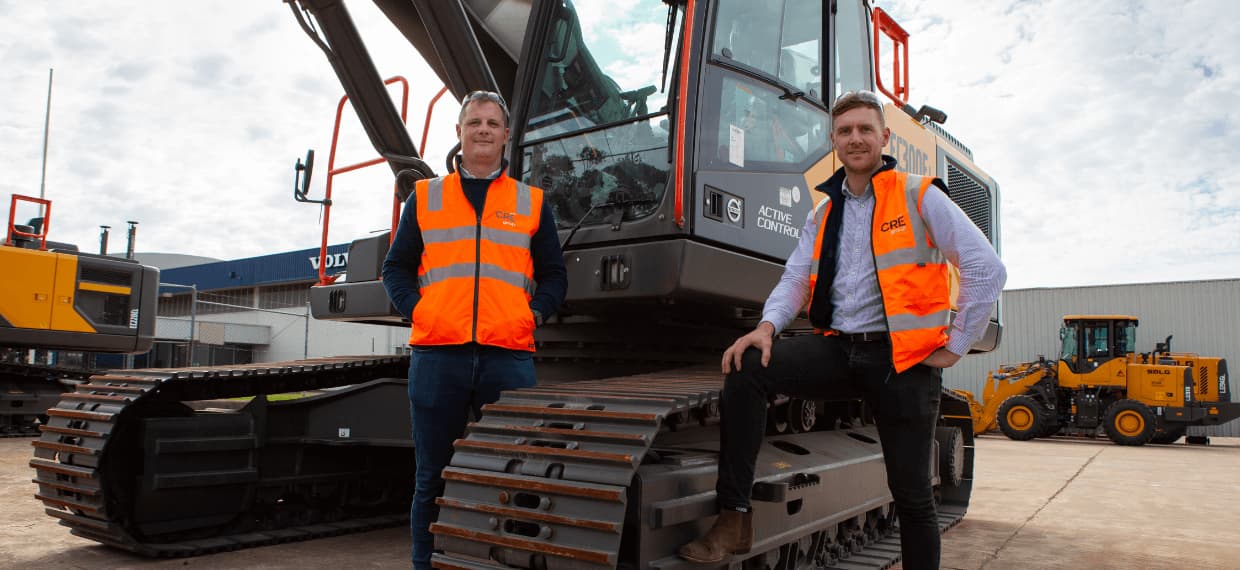 The construction and machinery expo is the brainchild of Michael Harding (left) and Patrick Doheny.
It is a tragic and sobering statistic that every year, 190 construction workers in Australia die by suicide. This equates to one death every second day, which is roughly six times the rate of accidents at work claiming the lives of construction workers. And this suicide rate is more than double that of other young Australian men.
Published by MATES In Construction, this research reflects how difficult it can be for people working in the industry to discuss their feelings with co-workers, while also highlighting the stigma and difficulty associated with obtaining social support. But help could be on the
horizon. Victoria's newest machinery and construction show – Dig Deep – was inspired by a desire to save lives and bring together Australia's construction community. A major motivating factor for the expo is to bring the conversation about mental health to the surface while also raising funds for Beyond Blue.
Dig Deep is not the only event addressing the subject of mental health, with the Workplace Health & Safety Show 2022 presenting live and interactive learning experiences that
recognise its relevance. Day One includes a presentation from John Toomey, CEO of Wide Awake Wellness; on Day Two, the impact of brain chemistry on safety and performance, creating mentally healthy workplaces, and the management of psychological stresses are topics that feature prominently.
A worthy cause
The trade show's origins evolved from an ambitious idea: to raise one million dollars for Beyond Blue. Patrick Doheny and Michael Harding from CRE Group, the co-founders of the event, were inspired to create a forum that would combat the stigma perceived by many males around seeking support for mental health challenges. "It's a big industry and with the help of our sponsors and exhibitors, we are confident we can make it happen and make change by providing our hardworking people with the vital mental health support they need," Harding said.
Both hailing from Tipperary in Ireland, Doheny and Patrick have been in business together for eight years, after meeting in Australia while working on a pipeline project. As passionate proponents of civil construction, they conceived the event as a way of supporting the mental health of workers in the industry by raising awareness and donating 100 percent of the profits to Beyond Blue. "We want to create an event that can both support and give back to the people within the construction industry," Doheny said.
Industry-insider information
With global brands represented, including CJD Equipment, CRE Group, Hitachi Construction Australia, Kubota, Porter Group, Solution Plant Hire, UAA, Verkan Group and William Adams, the event will be a fascinating showcase of machinery, utility vehicles, trucks, trailers and earthmovers. Dig Deep will see exhibitors providing industry-insider information and advice, in addition to displaying the latest construction equipment from Australia and overseas, including safety gear, attachments and simulators.
On the first day of the event, the preliminary finals of the William Adams 2022 Global Operator Challenge will pit Victoria's best machinery operators against one another through an exacting series of trials to test their proficiency with technology, their versatility, agility and resilience. After advancing through regional finals, the winner will have the chance to compete at CONEXPO-CON/AGG 2033 in Las Vegas for the title of world champion.