RAIL UPGRADE PROJECT WINS PRESTIGIOUS INDUSTRY AWARD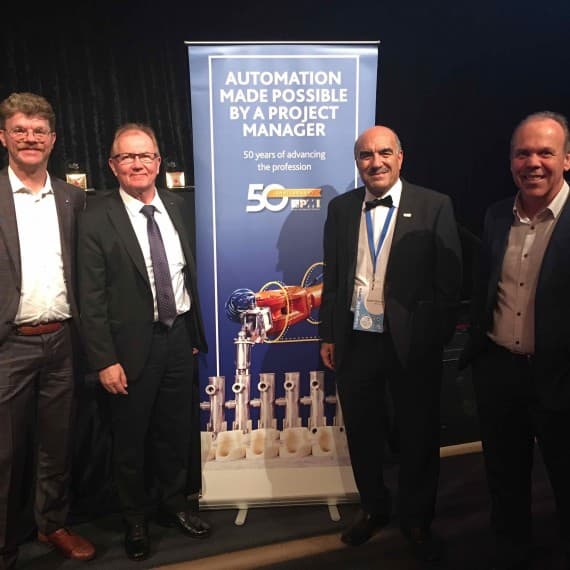 ABB staff Sean Stove, Tauno Heinola, Fayez Othman and Mike Briggs
ABB Australia has won the State/Local Government Project of the Year category of the 2019 Project Management Institute Australia Awards for its successful delivery of the Adelaide Metro upgrade project for the South Australian Government's Department of Planning, Transport and Infrastructure. It was also named as a finalist in the overall Project of the Year category.
The awards recognise organisations and individuals whose passion, talent and expertise make the greatest contributions to the project management profession.
ABB was selected as the lead contractor to replace and modernise the propulsion systems on Adelaide Metro's fleet of diesel electric railcars, which included providing generators, traction convertors and train control systems as well as design, engineering and commissioning. 70 railcars were upgraded in the project.
The upgrade has delivered far-reaching benefits for rail travellers and the community, such as enhanced reliability even under the toughest environmental conditions, with the systems successfully operating on Adelaide's hottest-ever day (46.6°C on 24 January 2019), and improved safety due to enhanced traction in wet weather. The propulsion system allows the upgraded diesel engines to run at lower revs when higher power is not required, improving fuel economy and reducing carbon emissions, and remote connection to the control depot for system monitoring and diagnostics increases uptime. A planned noise reduction program at Adelaide Railway Station is no longer required due to reductions in noise from the upgraded fleet.
"This is a tremendous achievement for DPTI and the ABB project team that not only represents the team's tireless efforts, but also the collaborative nature of this project," ABB Australia Managing Director Tauno Heinola says.
ABB has been providing innovative and energy-efficient technologies to the rail sector for more than 100 years, manufacturing and servicing all components and sub-systems for rail infrastructure and rolling stock in urban, intercity and high-speed networks. It also provides lifecycle service support, including maintenance and retrofits for its large global installed base.
ABB Australia
1800 222 435
www.abbaustralia.com.au