RAIL RESEARCH INSTITUTE PARTNERS WITH INTERNATIONAL RAIL UNION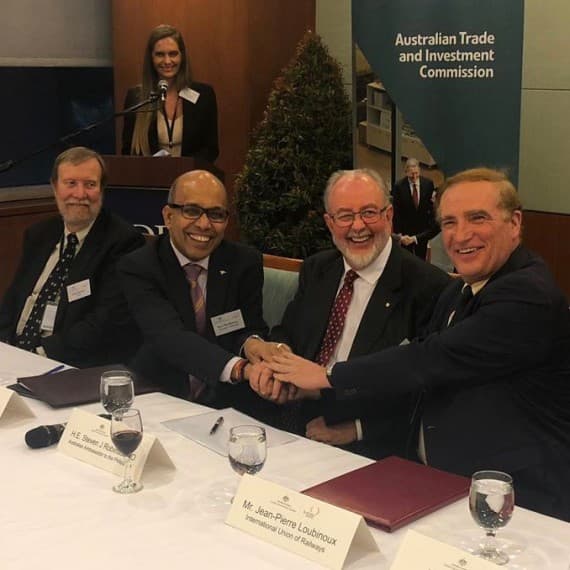 Scott Dawson, Asian Development Bank; Ravi Ravitharan, IRT; Ambassador Steven Robinson; Jean-Pierre Loubinoux, UIC
Monash University's Institute of Railway Technology (IRT) has signed a memorandum of understanding with the International Union of Railways (UIC), the worldwide professional association representing the railway sector and promoting rail transport.
The memorandum was signed in Manila during the 2019 Philippines-Australia Railway Innovation Roundtable and the 27th UIC Asia Pacific Regional Assembly, in the presence of the Australian Ambassador to the Philippines, Steven Robinson.
It focuses on collaboration in research and technology development, railway construction, operation and management, and education and skills development relevant to railways, bringing an Australian context to global railway advancement.
The UIC brings together members working in railway management and development from all continents of the world. Its objectives are to promote railway transportation through expertise and capacity building, as well as knowledge sharing with, and knowledge transfer to its members.
The IRT is regarded as the leading track and vehicle research centre in Australia. It has an established record in solving railway-related technical issues and continually develops key technological innovations. Railway owners and operators throughout the world adopt its solutions, providing significant benefits to the railway industry globally.
"The partnership with UIC will help advance railway technology around the world, and now strengthened through Australia's contribution to the objectives of the UIC," says IRT Director Ravi Ravitharan.
"It offers an opportunity for Australia to continue to play an important role in the development and sustainability of the railway industry globally, through the formalisation of the relationship with the UIC. The partnership will bring mutual benefit with new partnerships created and existing ones expanded and enhanced, through the closer collaboration with the UIC and its network of members."