Published 02-03-2021
| Article appears in April 2021 Issue
Rail industry relies on PMA cable protection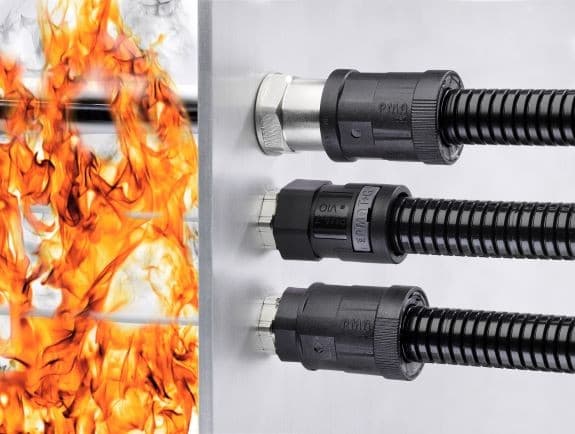 For flexible polyamide cable protection systems for rail vehicle and railway infrastructure applications, PMA is a technology leader in the market. The PMA product portfolio has continuously evolved to meet the new challenges of the applications.
Treotham Automation is the Australian supplier of PMA products.
Since the start of the PMA product line in 1975, a strong focus upon the railway industry exists, providing cable protection solutions for almost all types of rail vehicle and for railway infrastructure applications.
During this period, the team has gained knowledge and experience from countless projects and applications around the globe.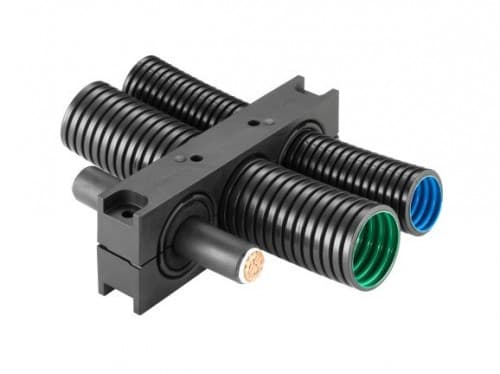 The PMAFIX Pro fitting series, for example, is a technologically advanced fitting for a corrugated conduit. It combines ultimate simplicity for the user, push fit installation with an audible "click" confirmation of correct assembly, and produced through state-of-the-art construction.
The key element, the PMAFIX Pro locking and sealing element, is produced in a two-component injection moulding process. The structural core provides mechanical stability, as the locking function positions the conduit perfectly centralised within the fitting.
The softer sealing component provides the longest sealing area of any fitting available on the market. Sealing material on the inside of the core provides a seal to the conduit, sealing material on the outside of the core provides a seal to the fitting body.
The design and development of the PMAFIX Pro fitting required the introduction of two component injection moulding technologies in the PMA manufacturing facility.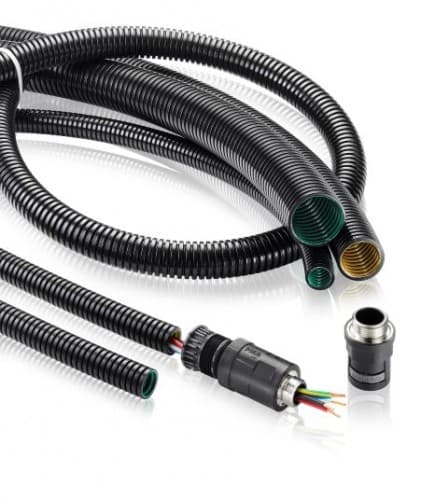 In-house PMA testing facilities
Testing plays an essential part in the attainment and maintenance of quality levels.
It is critical as a means of assessing possible new materials, processes and designs, it is necessary for design verification in new product development and must be performed to ensure quality control of series production components.
With extensive testing facilities available for PMA both in house at the production facility in Uster, Switzerland and at other ABB sites around the world, products are tested to internationally recognised standards.
For cable protection products designed and manufactured by PMA, IEC 61386 and UL1696 are the most commonly applied general product standards that include a wide range of tests for mechanical strength characteristics, flexibility, operating temperature range, system ingress protection and resistance to aging under temperature and UV exposure.
The future: Intelligent cable protection
One of the key issues in many industrial applications is the penetration of water into electric systems, caused by damaged components or condensation.
Smart Sensors are wireless, self-charging devices that easily attach to equipment, monitor crucial functions and report data through the ABB Ability system.
With ABB Smart Sensors already available to monitor electric motors, pumps and mounted bearings, PMA supports integration of ABB Ability™ to Smart Cable Protection System.
Through integrated sensors, the PMA cable protection products can detect this kind of water penetration early on.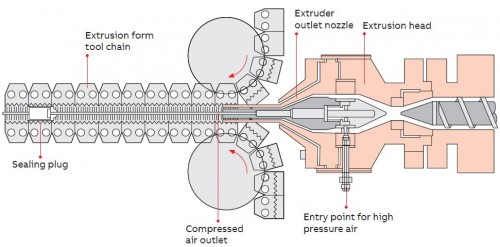 With the ability to pinpoint important indications of problems in cable protection systems such as condensation, leakage, fractures and high heat, Smart Cable Protection System enables users to cut downtime, reduce sudden failures and pinpoint needed repairs rather than performing expensive change outs based on generic schedules.
A patent is pending on this ground breaking new technology.
PMA has provided cable protection solutions to many of the world's leading rail manufacturers including Alstom, Ansaldo Breda, BEML, Bombardier, CAF, CRRC, Downer Rail, ERA, Hitachi, ICF, Faiveley, Kawasaki, Koncar, Mitsubishi, PESA, RCF, Siemens, Solaris, Stadler, Talgo, Voith, Wabtec and many others.
Through proven product and service performance, PMA has gained a reputation as a reliable business partner supplying components of the highest quality.