Radio-controlled robots help Linfox blaze pathway to warehouse automation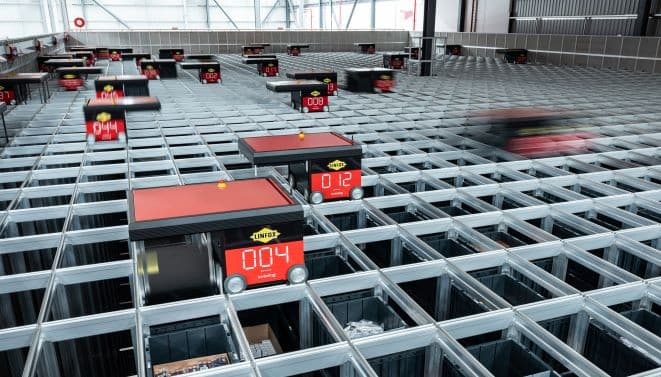 The world's most compact and secure goods-to-person automated storage and retrieval systems is being used by Australia's largest privately-owned logistics company to deliver speedy and safe service to its client's customers.
The ultra-high density AutoStore system, powered by Swisslog, has been chosen by logistics leader Linfox for a new consumer products facility in western Sydney.
The facility accommodates more than 20,000 bins of high value product served by 45 robot-wheeled bins in an automatic storage and rapid despatch system occupying a floor of just 700 square metres.
The efficient new automation system received "highly commended" recognition by the Supply Chain & Logistics Association of Australia (SCLAA) in the "Best Supply Chain Management" category of their annual awards held in December 2020.
Linfox President, Consumer and Healthcare Group, Kylie Fraser, says the system places Linfox "at the very forefront of efficient automation, a subject about which we are passionate because of the benefits it brings our customers."
"Linfox is leading the way with investment in exceptional supply chains to help our customers grow stronger and work smarter," Ms Fraser said.
"We work with our customers and partners using business insights and technology solutions that create better operational models and performance.
"Our valued global consumer goods customer required a bespoke solution to deliver growth through more efficient capacity, productivity, accuracy and speed to market. After an extensive selection process to find an automation partner that understood our customer's needs, we chose Swisslog."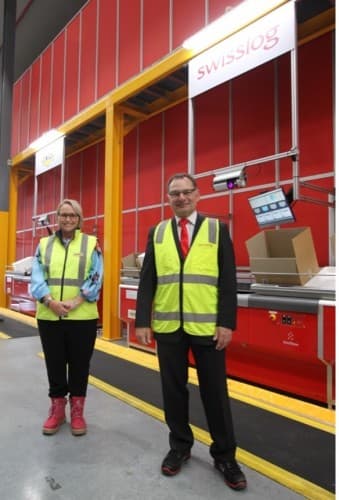 Compared with conventional non-automated warehousing, AutoStore systems offer a 60 per cent reduction in inventory storage footprint, a 50 per cent increase in picking speed and inventory record accuracy of more than 99.9 per cent.
The highly secure but easily operated system is among the latest of more than 500 AutoStore systems delivering such benefits globally, including one employed by the FBI in the USA to safeguard and efficiently manage millions of paper records.
It works by using radio-controlled, battery-powered robots which move along a grid on top of stacks of bins. When a picking order comes in, robots lift bins from the stacks and deliver them to the picking station, where an operator verifies the contents and adds picks to the order.
The robot then returns the bin to storage. New stock is loaded into bins for storage, and as soon as those bins are stored, they are ready to be picked.
Swisslog Australia Managing Director, Francis Meier, says the system is ideal for fast, accurate, secure and clean picking of smaller high-value goods in a greatly reduced space compared with conventional warehousing.
The rapidly expandable and adaptable system is ideal, for example, for consumer goods such as sports, fashion, gifts, electronics, beauty and household products, as well as global uses such as medical, surgical, pharmaceutical, high value e-groceries and the huge diversity of personal items in the rapidly expanding retail and ecommerce markets for which hygienic, safe and secure automated despatch is accelerating post-COVID.
"AutoStore systems are very clean and safe, eliminating multiple handling by storing internally up to 100,000 products or more that would otherwise be placed in cages on rows of racks," says Mr Meier.
Mr Meier says Swisslog worked collaboratively with Linfox and its customers to create a solution that increased storage density to decrease the facility's overall footprint. AutoStore was selected as it could effectively store and manage the customer's increasing SKU range whilst increasing operational efficiencies.
Linfox's installation is the first by the diverse logistics company, which employs more than 24,000 people across 10 countries and is one of the most compactly product-dense of any AutoStore installations.
AutoStore systems are one of a comprehensive portfolio of Swisslog automation systems for different industries and product types and sizes, including ASRS, automatic conveyor and transport systems, picking and palletising solutions, and flexible and intelligent software solutions.