Industrial lasers & sensors
RADAR LEVEL GAUGE OPTIMISES LIQUID SEPARATION PROCESSES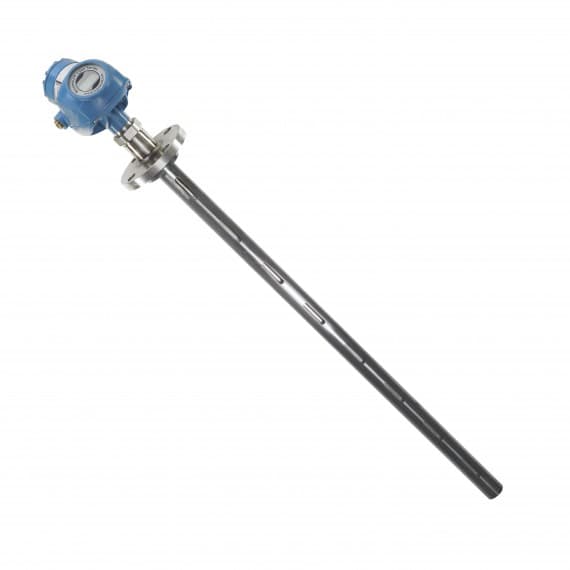 Engineering technology company Emerson has enhanced its market-leading Rosemount 5300 guided wave radar level transmitter to optimise separation process performance and prevent costly product ingress by accurately measuring a thinner top layer of liquid in interface applications. The Rosemount 5300 can now also perform measurements to the top of a tank, enabling increased throughput and profitability. Additional new features provide greater ease of use, increased safety and enhanced performance in the most challenging level and interface applications.
Operators have long struggled to obtain the most accurate measurements to increase the efficiency of separators and maximise profits. With large tanks containing millions of litres of liquids, even a small inaccuracy in volume can translate into millions of dollars in lost revenue.
In interface measurement applications such as separators, the top layer of product must be a certain minimum thickness for a guided wave radar transmitter to distinguish between the echoes from the two liquids. Previously, the minimum detectable thickness was between 50 and 200mm. Emerson's unique patented Peak in Peak interface algorithm now enables the Rosemount 5300 to detect a top layer of liquid of just 25mm. This further prevents unwanted product ingress and optimises the performance of a separation process, helping users maximise operational efficiency and profitability.
The Rosemount 5300 can provide accurate and repeatable measurement to the very top of a tank when used with a large diameter coaxial probe, enabling users to optimise tank capacity and increase throughput. These probes provide the strongest return signal, have no upper dead band and are not affected by obstacles on the tank wall. High-amplitude noise created as microwaves passing through the process seal between transmitter and probe has traditionally affected measurement accuracy at the top of the tank. Enhanced process seal design has enabled Emerson to eliminate this noise, facilitating accurate measurement to the top of the tank during both filling and emptying phases.
To increase measurement reliability and ease of use in upstream oil and gas applications, the Rosemount 5300 features a new factory-configured threshold setting, where the echo below the threshold is assumed to be oil and the echo above the threshold is assumed to be water. This eliminates double-signal bounces that can be mistaken as an interface level measurement and enables more predictable behaviour. This creates a true plug-and-play device that simplifies installation and operation.
To ensure the integrity of the transmitter in safety-critical applications such as overfill prevention and dry pump protection, verification reflector functionality enables comprehensive remote proof-testing of the device with 94 per cent test coverage. This can be performed in minutes from the control room during operation and without having to raise the tank level to a potentially hazardous point, thereby reducing downtime, minimising risk and maximising the safety of both plant and workers. Compared with traditional diagnostics, which only monitor the transmitter electronics, verification reflector functionality can also be used to diagnose problems with the upper parts of the probe inside the tank, such as corrosion monitoring and other process-related conditions.
Further supporting increased ease of use, the Rosemount 5300 is now fully and easily configurable using a broad range of customer tools, with both the Device Descriptor and Device Type Manager configuration methods updated to the latest device dashboard. The device's configuration software can now switch between Rosemount's alarm limits and those of the European NAMUR, thereby providing users with increased flexibility of choice.
Emerson Automation Solutions
1300 55 3051
www.emerson.com